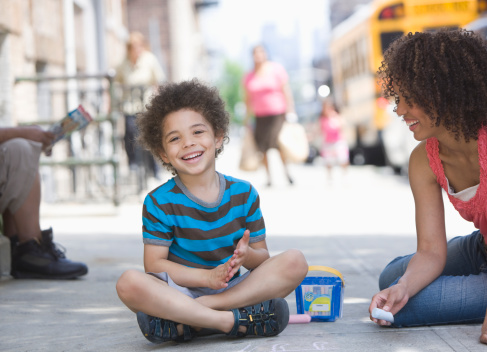 School's almost out… time for summer camp, Popsicles, family adventures, and water park slides! At the back of many parents' minds is a different kind of slide, though… the summer slide.
Six-plus weeks away from school can often mean a slip in learning. After all of the hard work your kiddo has put into school all year, the last thing you want is for his or her knowledge to be forgotten or blocked or wiped out by hours of mindless video-game playing. Coming up with engaging and fun ways to incorporate learning into your summer can make all of the difference.
Here are several tips to help prevent summer slide in ways that are so fun your child won't even realize that they're learning:
1.     Read anything, everything, everywhere
Especially if your child is just beginning to learn how to read, the importance of reading together is hugely important to developing and maintaining their skills. You don't need to be a phonics expert – you just need to encourage their practice, help them with the difficult words and concepts, and show them that reading is fun and interesting. Discuss what you are reading and consider writing your OWN book together when you're finished.
2.     Visit your local library for summer reading initiatives
Most public libraries will have summer reading challenges or initiatives that are far more exciting than the reading lists your child may have been given for the summer by their teachers. Filling out a reading passport where you get a stamp for every book you've read or earning pieces of a puzzle you can build is more enticing than checking a book off of a list. Public libraries often offer fun activities to encourage reading as well as incentive programs (think free pizza, free books, or extra borrowing privileges) for finishing book lists or meeting reading goals.
3.     Send postcards
Going on a family vacation? Sending them off to summer camp? Purchase fun postcards of their destination and encourage your child to say hello to friends and family back home… and also practice their writing skills. If you're staying put for the summer, consider asking a neighbor or family friend to be your child's pen pal for the summer months as another way of practicing their writing – nothing beats receiving a letter in the mailbox!
4.     Sneak learning into daily activities
"Can you help me count this change to see if we have enough for ice cream cones?" is a much more inviting activity than handing your child a math worksheet. There are tons of ways to make everyday activities into learning experiences. Make a game out of finding odd and even numbers on billboards while you're on a road trip. For younger children, plan an indoor "snow day" where they get experience using scissors to make coffee-filter snowflakes and practice zipping up their winter-weather clothes all while thinking and talking about topics like weather and opposites. Take a nature walk and talk about your observations. Visit museums with outreach and learning programs.
5.     Practice with sidewalk chalk
Take spelling and math to a bigger and brighter level. Practice their addition and multiplication or sight word recognition by drawing on the sidewalk or in the driveway together. When you're done for the day, pull out the hose to "erase" your work.
6.     Get gaming
Use your tablet or phone for educational fun. Here are a few apps to get you started:
iWrite Words: An interactive handwriting game.
MeMe Tales: Basic books, books for first time readers, and longer classic tales. Books can be read with audio playback.
Math Doodles: Basic math skills presented in a fun and challenging way for children ages 4 and up.
Participating in summer learning activities can make all of the difference in how the coming school year will begin. Help your child maintain and gain skills that will put them ahead of the game come September.
Most of all, have fun learning together!
By: Amanda Oliver