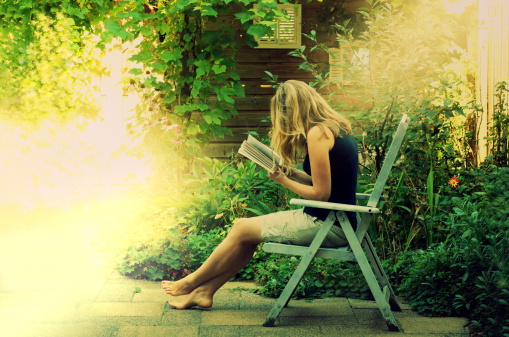 .
Whether you're planning to lounge by the ocean in the Outerbanks or preparing for a summer by the water cooler, few things beat disappearing into a good summer read. Here are our picks for books to read this summer, no matter where it takes you:
This One Summer by Mariko Tamaki and Jillian Tamaki
If you've never tried a graphic novel, this is a good one to start with. Rose and Windy have always visited Awago Beach with their families, but this year they're a bit older and a lot more curious and aware. That means dealing with family crises and spying on local teenagers to learn all about what health class didn't teach them. This beautifully-drawn story will bring you back to your own formative years, where you began to keep just as many secrets as the adults in your life did. Although this book falls under the "Young Adults" category, it's the type of reading that seems meant for adults, too.
Summer House with Swimming Pool by Herman Koch
Looking for a thriller? Herman Koch is the author for you. In this most recent book we meet Dr. Marc Schlosser, who is seemingly responsible for the death of famous actor Ralph Meier after a medical procedure goes wrong. But there's more to his death than meets the eye and it all began the previous summer when the doctor came to stay with Ralph and his family at their expensive summer home. Their pleasurable summer took a violent turn and it all ties into the actor's untimely death a year later.
 The Fault in Our Stars by John Green
If you haven't already seen the movie or read the book, summer is the perfect time to finally see what all of the John Green praise is for! "The Fault in Our Stars," whose story line is based on a John Green child fan with cancer, is a captivating and touching story for all ages. You'll fall in love with Hazel and August and their unique love story… and also shed at least a few tears.
 I Am Having So Much Fun Here Without You by Courtney Maum
Released in early June, Maum's fictional tale is being labeled a "reverse love story." A British artist earns a small fortune by selling a painting that he made for his wife… just as his wife finds out that he has been having an affair. He begins a race around Paris trying to win her back in various ways. The book attempts to answer a question many of us have asked: Is it really possible to fall back in love? Maum's wit and ability to delve into emotions make this a particularly great read.
No One Could Have Guessed the Weather by Anne-Marie Casey
A realistic life-and-love story is hard to come by, but when you find it, you fall in love with it. "No One Could Have Guessed the Weather" is particularly easy to love.  It takes a real look at what happens when you've passed your twenties and thirties and are still dealing with many of life's troubles in your forties. The lovable female characters with their not-so-lovable troubles make this summer read particularly relatable. The author's website describes it like this: "For anyone who's asked, 'Is that all there is?' and hoped for a surprising answer."
A Hundred Summers by Beatriz Williams
Travel back in time to 1938 New York. Socialite Lily Dane is traveling back to idyllic Seaview, Rhode Island with her family for a relaxing summer. Instead of calm and quiet, she finds Nick and Budgie Greenwald – her former best friend and former fiancé – also inhabiting the quaint town. The unexpected truth about Budgie and Nick's marriage starts to come to light just as a hurricane begins to travel up the Atlantic and into New England. Lily and Nick have to confront their old feelings and ties to one another that create their own sort of dangerous and damaging conditions.
Enjoy traveling to new places with your summer reading! Bon voyage!

By: Amanda Oliver