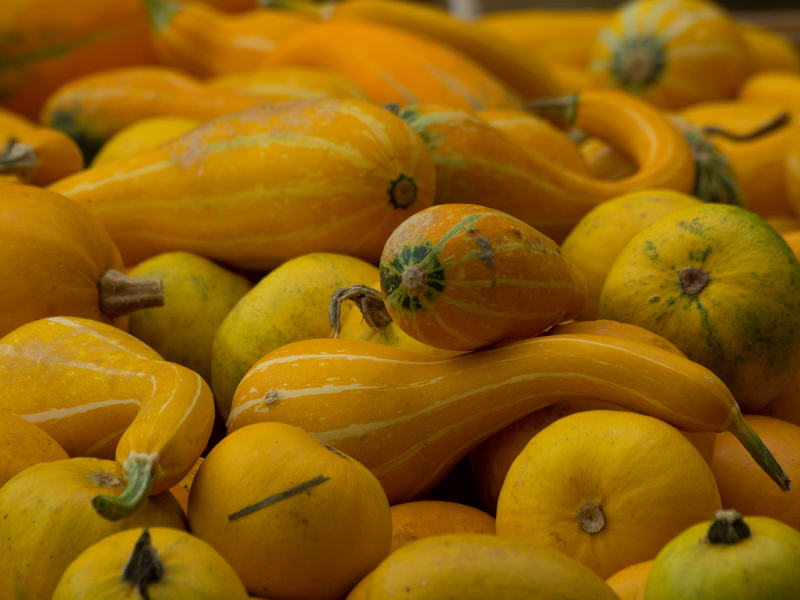 When writer George Eliot sighed "Delicious autumn," about her favorite season, she must have been referring to the autumn squash harvest. (She must have been a foodie too!) Whether it's a robust rust-colored pumpkin or a ripe, jewel-toned striped squash, nothing is more  synonymous with delectable fall fruit and savory yet subtly sweet fall flavor than gourds.
Familiar varieties like butternut, acorn, spaghetti squash, and pumpkins are referred to as winter squashes, but are harvested at the end of summer and enjoyed throughout the fall. Spaghetti squash as a pasta substitute and baked acorn squash sliced in half and stuffed are easy traditional go-tos, but with a little imagination squash can be enjoyed (and not wasted) a variety of ways that keep the butternut beauties from being boring.
Squash makes an amazing stir fry and packs a ton of nutrition and flavor without much fuss. A warmed up wok with a spoonful of sesame or coconut oil welcomes  slices of fresh bell peppers and thick-cut cross-sections of squash. In another small skillet, scramble an egg with a dash of low-sodium soy sauce an add zesty Asian-inspired rice or noodles (Knorr has a nice variety of the instant kind), complete with your favorite veggies. Make a bed of rice and toss the squash and pepper rings on top, season with a generous squirt of Sriracha.
A simple saute also serves as a great transition to bring the gourd to the breakfast table. Experiment with whatever veggies need used up in your kitchen to craft an autumn scramble. I really enjoyed a squash scramble I came up with that was tossed with fresh garlic, eggplant, peppers, and veggie sausage, with a sunny side-up egg flung on top (vegans can sub in tofu). I'm eager to try a squash scramble with Brussels sprouts too. Add its summer squash cousin zucchini shredded, sauteed, and seasoned with salt and pepper to taste, served on the side in lieu of hash browns or home fries to avoid adding starchy potatoes into the mix.
What's could be an easier way to enjoy autumn than a slow cooker full of warm, chunky chili? Follow traditional chili base guidelines to your taste, add lightly roasted and cubed eggplant, sweet potatoes, and squash with onions and peppers, add to chili. Chick peas (garbanzo beans), black beans, and a handful of fresh corn kernels make for a healthier and hearty chili. What's your favorite fall squash recipe? — Casandra Armour