Light colorful scarves, anchor and seashell prints on fabric, floppy over-sized straw hats. When we think summer, these are the clothing accessories and details that often come to mind. Magazines and fashion bloggers put together layouts and outfits that make us swoon for the beachy looks…until we look at the price or realize that their outfits are paid for by the companies they're wearing! Summer chic isn't always affordable, but Etsy has a wide variety of affordable options to brighten up your summer days.
Here are affordable accessories and a few tips for how to dig better and for more on Etsy:
Vintage Woven Straw Sun Hat ($23)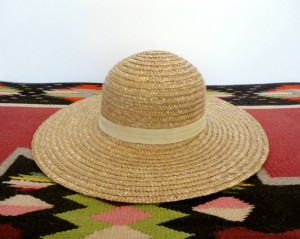 Sun hats are multitaskers just like us! Sun protectants, bad-hair-day hiders, and outfit improvers. You can find cute summer hats at stores like Target and GAP, but if you're looking to channel your inner Bridget Bardot, vintage is the way to go. TIP: Consider Etsy your easy-to-navigate thrift store. Click the Vintage tab on their main site to browse through popular and recently added items, or start your search for a sun hat (or other vintage item) and then tick off the "Vintage" box to set your parameters. You can also monitor price points, color, size, etc. See? Best thrift store ever.
Pebble Necklace ($20)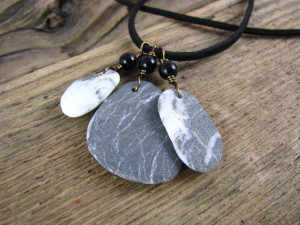 This pebble necklace is made from stones found while its crafter was on vacation in California. If you can't quite make it to the west coast this summer, why not keep a little of its calm nearby with your favorite outfits? TIP: If you know you want something one-of-a-kind that hasn't been mass-produced, search Etsy's Handmade section. If you're nervous about the quality, be sure to check other reviews of the seller or contact them directly to ask questions. You'll more than likely get a friendly response in no time.
Whale Tale Bracelet ($19)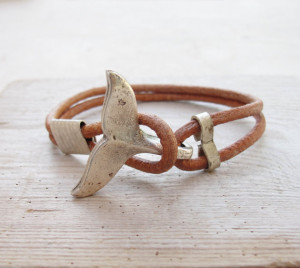 A whale to watch (and show off!) at all times this summer. This adorable bracelet is handmade with real leather and aged silver plating. They also have vegan leather options. TIP: Make sure you read the details of the product you're buying, especially for size. This particular bracelet comes in XS to XL and the seller has listed measurements of the strap for the buyer's convenience. Since you're shopping online, this is the closest you're going to get to trying the item on. Read carefully!
Starfish Ring ($22)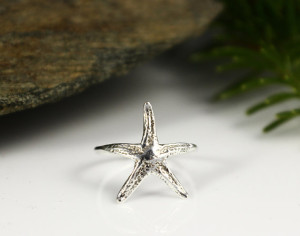 If you're into more modest jewelry or love having several unique rings on your hand, this sterling silver starfish might be for you. TIP: Sellers will often direct you to sizing charts to help them custom-make something for you—way more than you get from grabbing a ring that kinda-sorta fits at a chain store. They might also, like this seller, have Facebook pages you can Like to gain access to special deals and sales.
Lotus Bracelet ($36)
The lotus flower is associated with purity and beauty and this bracelet embodies both. For the minimalist who likes a piece of jewelry that encourages compliments and conversation, this delicate piece with meaning is the one for you. TIP: If you're not sure what you're on the hunt for, try clicking the "More" tab on the main page and selecting "Trending"—you'll see what other buyers are scooping up.
Sea Glass Earrings ($12)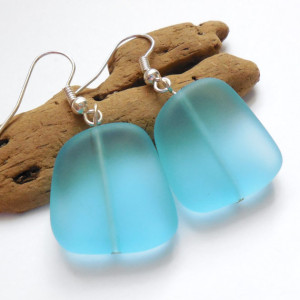 When I think of the ocean, I think about slowing wandering its beaches looking for sea glass. These earrings put some of that treasure to beautiful use. TIP: If you're not sold on a color, see if the store has other options available or message the seller to see if they'll custom-make something for you.
Whale Ring Holder ($18)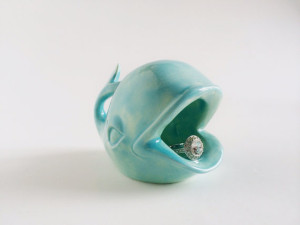 How adorable is this turquoise guy? For a safe place to keep your ring while you do the dishes or hop into some salty water, this whales got you covered. TIP: Look above the listing to quickly see whether the item you're looking at comes in other colors. If it does, they'll be listed just above. This whale comes in red, white, gold, and blue.
Turkish Towel ($24.50)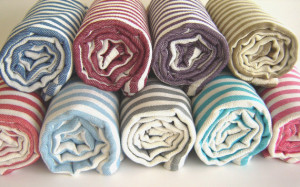 Turkish towels are one of the best summer accessories to have. They're soft and colorful cover-ups, scarves, and beach (or yoga, or gym, or sauna) towels all in one. TIP: For items that are common, look for details like price point, fabric quality, and buyers reviews. I picked these because they had over 500 5-star reviews and were made from eco-friendly fabric and dyes.
Nautical Scarf ($17)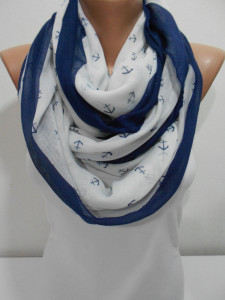 Nautical epitomizes summer. If you're not ready to commit to pants or shirts with the print, a scarf is the perfect touch of anchors and navy blues. TIP: 
Burlap Anchor Bag ($62) & Seahorse Beach Tote ($18)
Whether you're going to the beach or getting groceries home, an adorable tote makes the day more enjoyable. These two bags offer durable fabric and handles with cute prints.  TIP: Don't forget to leave feedback once you receive your items. Did it arrive safely? Did it match the pictures and quality described? Did the product smell like it came from a house with a cigarette smoker? This information helps the sellers make better products and, more importantly, helps other potential buyers decide what to buy. You've seen all of the choices, now help another girl out!
Don't forget to get outside and enjoy the warm weather…Etsy has a way of keeping you glued to your computer!