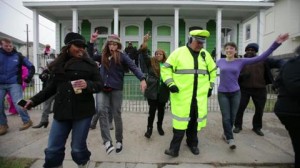 Hopefully you didn't give up dancing for Lent, because sometimes we all just need to boogie. And if you're stuck behind a computer right now, why not take a note from detective Winston Harbin of New Orleans and do a little dance?
Mardi Gras enthusiasts from all over the world joined in on festivities which concluded Tuesday, but it was detective Harbin who made news showing off his impressive dance moves during a parade. He may be protecting the people but he also kept them in good spirits.
"I was raised in the 9th Ward and learned to dance at all the Halloween parties," Detective Winston told the New Orleans newspaper of his humble dancing beginnings. "I'm subject to the Wobble at any moment. I was walking down the street… and the song was on. I asked my partner, 'Should I Wobble?'"
And "Wobble," Harbin did.
This is not the first time Habin got down on the job– last year he delighted a group of revelers when he joined in their rendition of the "Cuban Shuffle."
When the detective is not busy busting out dance moves, he stays pretty busy trying to solve homicide cases for the city.