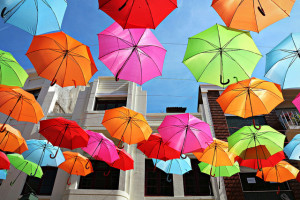 Spring showers are on their way, so why not stay dry and stylish with these cute umbrella finds?
This Felix Rey Cityscape Bubble Umbrella will keep you a tad more dry than the traditional umbrella shape, and the black/white/gray city line graphic with a sole red balloon is sure to make you the talk of the sidewalk. But such cuteness does come at a high price. This little beauty will set you back about $58.
This chic and graphic umbrella from J.Crew Factory will not only keep you looking stylish, but is a steal at $19.50!
No designer screams feminine fun more than Kate Spade, and umbrellas are no exception. I particularly love this striped black and white version with a hot pink handle. So Parisian chic.
How could you not be singing in the rain with this bright and cheerful Marimekko umbrella featuring one of their signature prints?
The rainbow-hued Color Wheel umbrella from the MOMA Store will make sure you stand out in any dreary crowd.
Simple and stylish, this navy and white striped umbrella from Madewell harkens to sunnier days and yacht riding. This is one classic umbrella you'll be hanging on to for years to come.
No deisgner brand is more synonymous with rain gear than Burberry, and their luxurious umbrella (at a whopping $215!) stars their signature print that women have just been dying to get their hands on decade after decade.
Mod Cloth is always a great destination for retro cuteness, and this clear bubble umbrella with happy yellow daisies on is just screams Zoey Deschanel!
If you're a huge Marc Jacobs fan, rest assured knowing that he even designs umbrellas. His Pinwheel Umbrella in a signature MJ print is quirky and fashionable.
And, last but certainly not least, we can't forget Jonathon Adler's visually appealing House of Cards umbrella. This one makes me wish it would rain just to have an excuse to use it! Rain, rain don't go away!