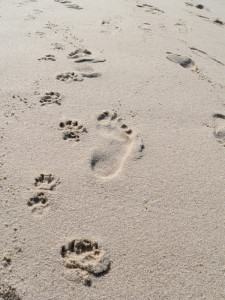 Always self-deprecating, sunny but acerbic comedian Sarah Silverman shrugged off her heartfelt goodbye to her pet simply an "obituary type thing" when she shared it on her blog.  But it was a befitting fond farewell she bid to her best friend.
Sarah's nineteen year-old Chihuahua-Pug mix, whose given name is apparently Doug Silverman but went by the nickname "Duck," passed after an incredibly long life, well-loved by his companion. The star guesses Duck to have been nearly two decades old, and the pair had spent fourteen of those years together after she rescued him from a Los Angeles no-kill shelter. He has been a fixture throughout her career, including guest-starring on her Comedy Central show The Sarah Silverman Program.
She details how he'd struggled for a long time with illness but that she found quality care to keep him comfortable and happy. Eventually old age caught up with her darling Duck and his little body could endure no longer.
Her sad and simple goodbye captures the exact essence of what each dog lover must experience with a brave face when their furry little friend grows sick and too tired to carry on: terrifying disbelief at the finality, reluctance to let go of the familiar body one last time, and reflection upon the countless people that have come and gone while this loyal animal stayed by your side.
Read Sarah's heroic homage, below. — Casandra Armour
Duck "Doug" Silverman came into my life about 14 years ago. He was picked up by the State running through South Central with no collar, tags or chip. Nobody claimed or adopted him so a no-kill shelter took him in. That's where I found him — at that shelter, in Van Nuys. Since then we have slept most every night together (and many lazy afternoons.) When we first met, the vet approximated his age at 5 ½ so I'd say he was about 19 as of yesterday, September 3, 2013. 
He was a happy dog, though serene. And stoic. And he loved love.
Over the past few years he became blind, deaf, and arthritic. But with a great vet, good meds, and a first rate seeing-eye person named me, he truly seemed comfortable. 
Recently, however, he stopped eating or drinking. He was skin and bones and so weak. I couldn't figure out this hunger strike. Duck had never been political before. And then, over the weekend, I knew. It was time to let him go.
My boyfriend Kyle flew in late last night and took the day off from work to be with us. We laid in bed and massaged his tiny body, as we love to do – hearing his little "I'm in heaven" breaths. 
The doctor came and Kyle, my sister, Laura and I laid on the bed. I held him close – in our usual spoon position and stroked him. I told him how loved he was, and thanked him for giving me such happiness and for his unwavering companionship and love.
The doctor gave him a shot and he fell asleep, and then another that was basically an overdose of sleeping meds. I held him and kissed him and whispered to him well passed his passing. I picked him up and his body was limp – you don't think about the head – it just falls. I held him so tight. And then finally, when his body lost its heat, and I could sense the doctor thinking about the imminent rush hour traffic, I handed him over.
14 years.
My longest relationship.
My only experience of maternal love.
My constant companion.
My best friend.
Duck.