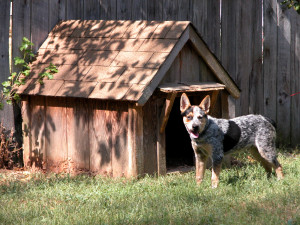 For us dog-lovers out there, the idea of boarding our precious pups in a kennel while we're out of town is enough to put a damper on even the most fun vacation.  First off, they're expensive.  Secondly, for the most part, our dogs are locked in tiny cages and only let out for brief periods to go potty.  And thirdly, there are some horror stories out there of diseases spreading like wildfire, dogs getting injured, neglect and so on.  But dog-lovers need not fear, for now there is DogVacay.com—a shining light of brilliance in the dim darkness of dog boarding.
At DogVacay, fellow dog-lovers sign up to host dogs in their homes while the pooch's parent is away. Prices are set by the host and can start as low as $15/night.  Since the hosts are true "dog people," guest pups are treated like the host's own baby.  As a host, I give my guest dogs the deluxe treatment—4-5 walks daily, free rein of my house while I'm home, constant playtime with my own dogs and the comforts of their own home combined with a "doggie vacation."  And I am no exception as far as hosts go.
DogVacay also sends hosts emails requesting photos during the pup's stay.  The host replies directly to the email with pictures that are then uploaded to Facebook.  So long as a pet parent is Facebook-connected, he or she can view the pictures and see how their furry best friend is faring on vacay.
Before hosting guest dogs, I used DogVacay as a guest, giving my terrier trio a chance to stay in a home rather than in a caged environment.  Rather than coming home slightly traumatized, full of restless energy and super clingy, my kiddos were pooped, chubby and, dare I say, almost a little sad to leave their host family!
And for those of you with extra room and time, signing up to become a host is easy and free.  Plus, it's a fun way to bring in a little extra money.  So be you a pet parent with an upcoming trip or a dog enthusiast looking for some extra cash, I highly recommend checking out DogVacay.com!