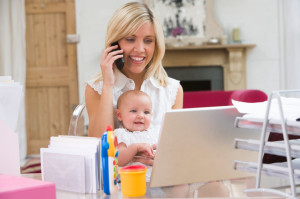 Being a single parent is difficult enough. Add on working and being a non-traditional student, tackling your children's homework on top of your own. It's enough to make some lose their mind, but that is my day-to-day.  It's definitely a challenge. A juggling act is probably the most accurate description.
Many people deal with these situations every day. From the time the sun rises and sets, it's a battle to maintain balance and sanity. In order to achieve this I have to stick to the same routine– kind of like groundhog day. Getting four children up, dressed, fed, and on the bus (with all of their belongings to boot) has its moments.
We have three different schedules for bus pick ups. Thankfully enough we have busing in our area which takes away driving to 3 different schools that are scattered all over our community. Then it's off to school for myself and working any time I possibly can in between. Not to mention laundry, dishes, cooking, cleaning, grocery shopping and yard work…yikes. If only I had a couple body doubles!
I've managed to get it all down and figure it all out, for now, and keep my stress levels down. One of the best things I have done for myself is pick up a healthy hobby. I make it a point to go running a few times a week. I found a place about 15 minutes from my house that is full of nature. A river runs along the entire tree lined path I follow. It's non-stop hills, which works out the entire body and soothes the soul at the same time. I know it's hard to take time away to drive somewhere and go running but I squeeze it in anytime I can. For other friends of mine in similar circumstances yoga is their outlet; I enjoy this as well.
Another thing I do when things seem to spiral out of control is turn up the tunes. My kids and I dance and sing, it kind of puts us all back on track and calms everyone down.
As parents when we do everything we can for our kids (and everyone else), we forget about ourselves. I've been kindly reminded by my mother and my grandmother (she had 4 boys and a girl) to occasionally put myself in a "time out" (if you will) when things seem overwhelming. Instead of the time out, I try to maintain my exercise outlet and turn on music to keep sane.  I put my headphones on and write, study or work at night to stay focused and on track.
And when in doubt, I always sample advice from other mothers to see if what they've tried works for me.