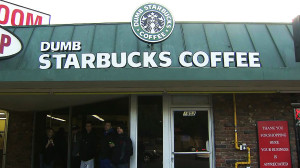 Everyone knows there's a Starbucks on every corner around the world, but how about a "Dumb Starbucks?" A coffee shop bearing an oh-so-similar logo, with the addition of the word "Dumb" and serving Dumb Latte and Dumb Iced Coffee (not to mention Vons pastries still in their Vons wrappers) opened up in the Los Feliz area of Los Angeles this past weekend (i.e. hipster haven.) The parody coffee shop quickly gained attention and soon an hour-long line had formed outside. Inside, the two baristas working gave away free coffee as part of a supposed grand opening promotion.
But as soon as it opened, it was closed. As you can imagine, the real Starbucks didn't take too fondly to having their name used in vain. But in the end it wasn't the behemoth corporation that shut them down – it was the county health officials. Dumb Starbucks apparently didn't have any proper permits to be an operating coffee shop. It has also been revealed that the brainchild behind the attention-grabbing stunt is television comedian Nathan Fielder of Comedy Central fame, in what may end up being a segment on his prank-based show "Nathan For You."
So far Dumb Starbucks has managed to skirt the law by promoting itself as a work of art. Fielder contends, ""Legally speaking, we're operating as an art gallery — under parody law, it only covers art — so the coffee you're buying is the art… Because of that we do not have a health permit so we didn't have to pay those fees and we passed on the savings to the customers." The comedian also shared that he saved money on this endeavor by eschewing fancy foreign beans and, instead, just getting "whatever Ralph's has on sale."
What do you think? Was Dumb Starbucks a hilarious prank or a giant waste of time?