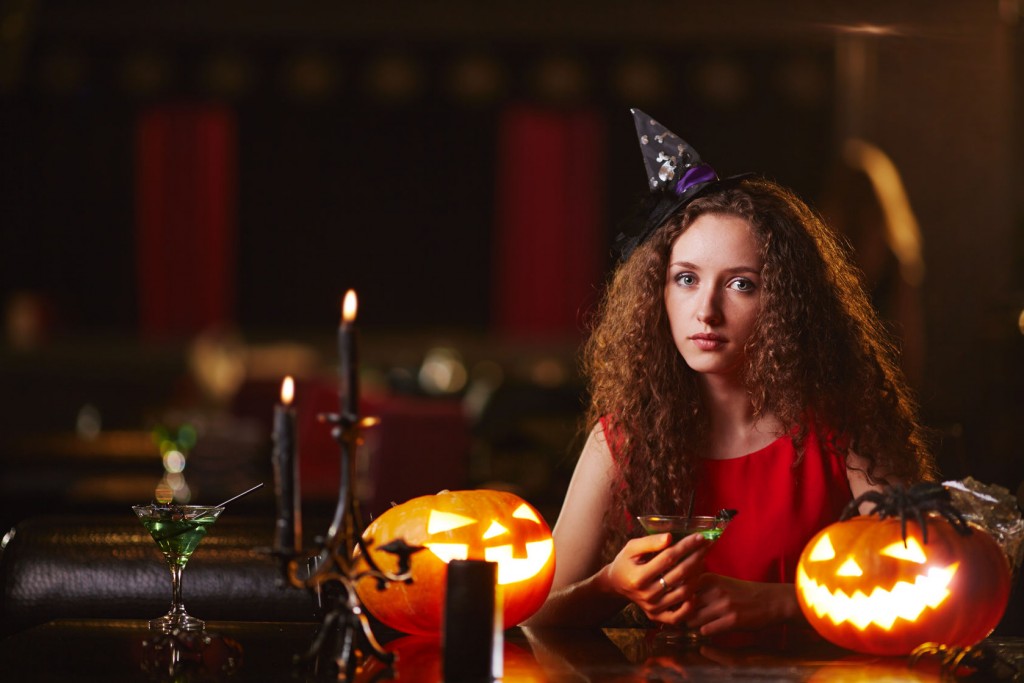 Halloween is only a few days away and you haven't even thought about a costume — no worries, there are plenty of ideas on what you could do if you just happen to decide on dressing for the holiday at the last minute. Or if that one friend who never throws a Halloween bash invites you to her very first one on Friday night. We here at Weekly Sauce have compiled a list of eight Do-It-Herself costumes that could work anywhere. If your boss is insistent upon having an office party, try being a demure Mary Poppins! If you and your crew are getting wild for the night, Miley Cyrus might be a good one to try. Either way it goes, you'll have been prepared without going crazy trying to find "the perfect costume" for more than a few dollars. Take a look at our lineup and start throwing things together. Here's one more quick tip: whatever you don't already have at home, try looking for at your local Goodwill, since they'll have all kinds of random treats in there for cheap.
Rosie the Riveter
This is a pretty common one. Rosie the Riveter is one of those costumes that you can throw together in a hurry at the house for one of those inevitable last-minute Halloween get-togethers. Curl your hair and tie a red bandanna on. Then put on dark indigo jeans and a chambray button down with the sleeves rolled up and the bottom tied. Finish with a fresh face, do some hammer curls, and get ready to show off your best bicep all night long.
Prince
Michael Jackson is always hanging around on Halloween. Not nearly as many people dress up as MJ's longtime rival though. Try something different this year. Curl your hair and pin it up and over one eye. Apply layers and layers of black eyeliner and don't forget to add a mustache. Then throw on the frilliest shirt you can find and a blazer — a purple one preferably. If you happen to have some chunky platform heels at the back of your closet, dust those off too!
Regina George
Who doesn't remember Mean Girls and the countless scenarios featuring Miss Regina George? The character hit home because, let's face it, every high school has a Regina George — and if you didn't find her hilarious, then you were probably Queen of The Plastics in your school district. Either way, that one scene where Cady and her squad try and sabotage George? That's the one we're going with this Halloween. It's simple really. Find an old fitted tank top and cut two holes in the front where your breasts typically sit. Pair that with a flirty skirt and If you aren't a blonde, hit the costume shop for a wig.
Miley Cyrus
Maybe the easiest outfit on this list — especially if you have a fuzzy onesie, preferably with ears. Part your hair down the middle and make two buns at the very top of your head. Load on the red lipstick and stick your tongue out all night long.
Fortune Teller
If you'd prefer to keep it cool and comfy for Halloween try going as a fortune teller. Find a scarf with embroidery or sequins to tie around your hair. Do bold lips and a smoky eye if you can manage. Pile on the costume jewelry as well — everything from long necklaces to tons of bangles on both arms. Then, show off some bright patterns all over in palermo pants and a blouse-y top.
Mary Poppins
Everyone loves Mary Poppins! And if you grab a big black umbrella, people should get the reference right away. Put on a white blouse, buttoned to the top and a full black skirt, black tights, and reasonable black shoes. Top it all with an overcoat, white gloves, and a brimmed hat decorated with daisies (or any kind of faux flowers). Grab a bowling bag — or if you can find one, a carpet bag — and belt out a few lines about spoonfuls of sugar helping medicine go down.
Jane Fonda
Even if you don't remember too much about Jane Fonda in her days of leading the 1980s fitness regime, her style is reflected everywhere these days. From those bodysuits made for the leggiest of models to stretchy leggings. Make sure you're color-coordinating, of course. Put your hair up in a high ponytail, then find a sporty headband to wear and legwarmers to match. Makeup should be reminiscent of the decade, so say 'yes' to the frosted pink on your lips and colored eyeliner — 'navy' could be cute. Don't forget your high-tops!
Jem
With the movie Jem and the Holograms in theaters now, this costume shouldn't be a tough sell. If you have a pink wrap dress at the house, that would be perfect — if not, do anything bright or with fringe that could be considered rock-and-roll chic. Then hit the costume shop for a big pink wig and some glittery makeup that will work on and around your eyes. Don't forget the big earrings and your microphone, superstar!