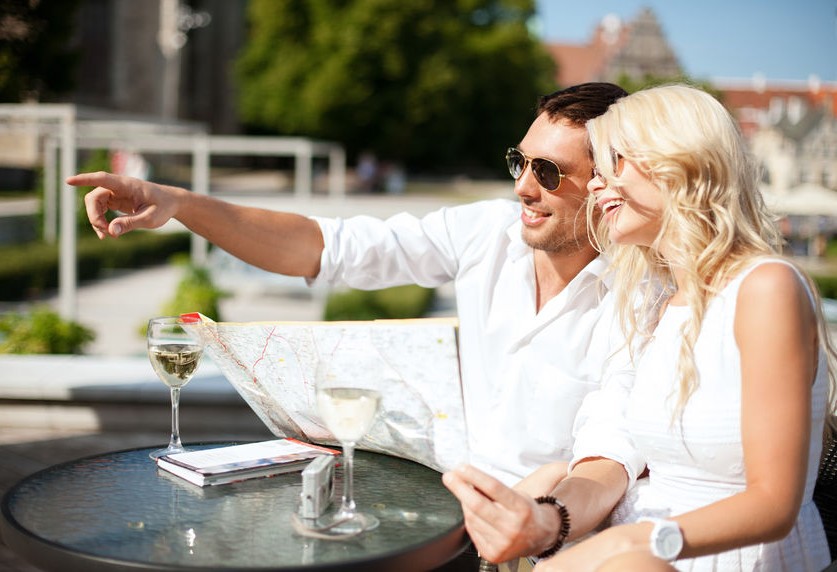 There's something to be said about falling in love in the summertime. The sun is shining bright almost daily now and this beautiful weather won't be here forever so if you have a beau, you guys should definitely be out and about while it's still nice outside. Take advantage of the season and do things a little differently than you would have when you guys were snuggling up in parkas a few months back. All it takes is a little planning, imagination and the willingness to try new things — and some sunblock! Make the next few months a season full of memories with Weekly Sauce's eight ideas on how you and your significant other can take this summer and make it yours.
A Table By the Water
If you guys aren't in a landlocked city and there's water nearby, then there's sure to be a waterfront restaurant — or maybe a boat ride — where you two can have a decent meal with a picturesque view. This is extra special if you can lock in the reservation as the sun sets. Romantic and thoughtful, your beau will appreciate the gesture.
Wine & Dine
Sometimes it's good to get out of town for drinks. Even if it's only an hour or two away. If there is a winery relatively close to the city that you're based in, it could be an experience to remember. Take a quick trip and enjoy a few glasses of wine while overlooking a vineyard in the country. Lots of wineries offer special weekend getaways featuring tastings and dinners, so do your research before making the trek.
Chase Waterfalls
Even if you guys aren't typically the outdoorsy type, it could be a nice change to treat yourselves to a hearty meal followed by a little hiking in the mountains — particularly if there are waterfalls present. This activity is not for the faint of heart, but once you get high enough, there's nothing like taking in a majestic view and feeling how small you are to make you appreciate the people in your life. Plus, it's always nice to sneak in a workout in and burn some calories off.
Love Song
Depending on what genre of music you're into, there are plenty of festivals you can attend all throughout the summer and into the fall. If you're lucky, there will be one in your city, but if you need to make a trip, plan it out and go for it. Music festivals are a ton of fun, from EDM at Georgia's TomorrowWorld to the Pitchfork Fest in Chicago. Bring hand sanitizer and comfortable shoes. You have options.
Bike It
Get back to the basics of summer. Remember when you guys were kids and you couldn't wait to get on your bikes and race your friends? Revisit that time for an afternoon. Rent some bikes and go for a ride. Enjoy the weather and each other's company at your leisure.
Picnic Knack
This one is a classic. Nothing can beat a picnic in the park on a beautiful day. Pack some tasty treats — forget the typical sandwich — and try some new recipes that will travel well and withstand the heat, then spend the afternoon vegging out on the grass.
Light a Fire
Bonfires are a great way to enjoy the gorgeous sunsets of summer. Invite a few friends to come along too! Call it a potluck dinner so you and your boo aren't stuck carrying all of the food. Nosh throughout the evening and make s'mores as the sun goes down. Sure to be fun for all.
Hit the Road
You don't have to get on a plane to change your environment. Why not rent a car for a few days and do some exploring on the way to your final destination? Pick a place then plot out the entire ride, stopping to rest and throwing in some fun activities like riding a horse or picking strawberries.