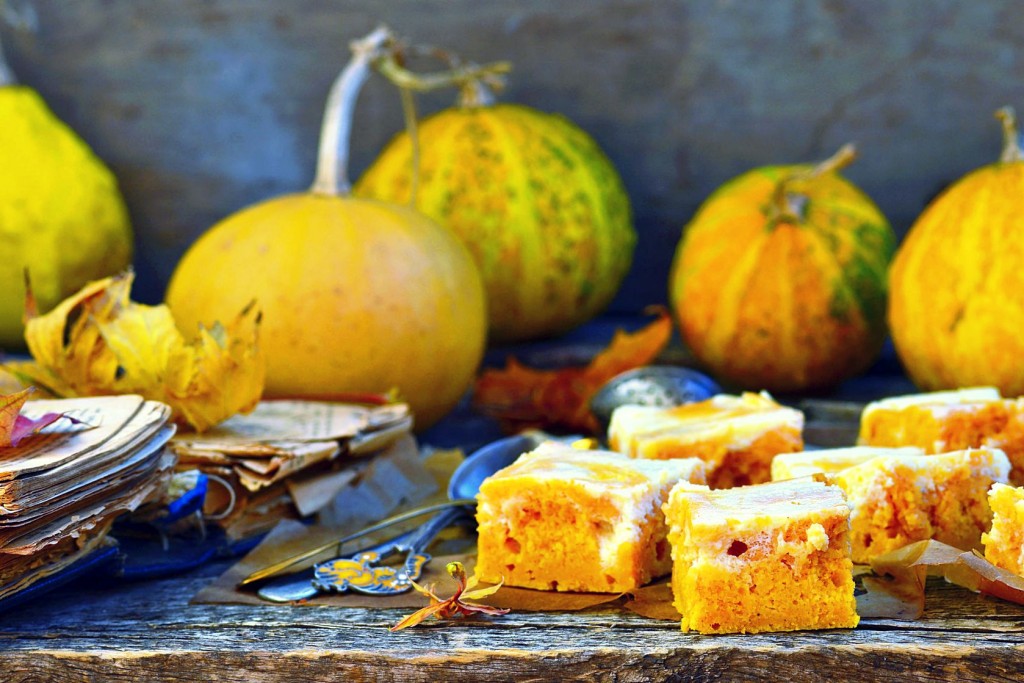 If ever a perfect season for desserts existed, autumn would be it. Temperatures cool just a bit, making rich and warm after-dinner sweets sound all the more inviting. Chocolate, anyone? Families gather together more often and school is back in session, making simple and quick (read: no-bake) desserts popular. And orchards abound during the fall months as various types of fruits are in-season, making it easy for even health-conscious dessert lovers to find something that tastes just right. (Healthy cobbler? Where do I sign up?)
What camp are you in? Do you prefer the rich and chocolaty, the simple and quick or the fruity and healthy? Whatever dessert you're dreaming of, autumn is a great time to enjoy it. Check out this roundup of must-try seasonal sweets:
Rich and Chocolaty

I believe rich desserts in autumn should be warming and substantial. It doesn't hurt, either, if they're also chocolate.
This Chocolate-Bourbon Cake, delectably drizzled with Coffee-Bourbon Syrup, combines alcohol, coffee and chocolate into one melt-in-your-mouth confection. I don't have to explain it anymore because it sells itself. Oh, and another plus is that the ingredients are pretty minimal. You can probably make this without having to go to the store for anything in particular. Note: If you're not a drinker, substitute apple cider for the bourbon.
Nothing says fall like pumpkin, and nothing says dessert like chocolate. So, when you combine the two, you get a perfectly sweet dessert—Pumpkin Swirl Brownies. These brownies are creamy and pack some interesting flavors, even including cayenne. Disclaimer: they aren't the easiest or quickest to make. But, if you're hosting a dinner party or just having a special evening and want something different on the dessert menu, try these for a conversation starter.
Fruity and Healthy(ish)
Make this yummy Skinny Apple Cobbler this fall. Not only will your waistline thank you, but your kitchen will smell like warm cinnamon apples. You'll simmer the apple mixture stovetop for about 20 minutes before adding the topping and putting the dish in the oven. (Tip: If you want to skip preparing the topping from scratch, you can always substitute organic store-bought granola. That will save time and calories.)
Serving these beautiful Riesling Baked Pears at your fall dinner party will have guests wondering if they're really only 241 calories each (and they are, believe it or not). Another plus? They take 20 minutes of active time to prepare and require only six ingredients!
Simple and Quick
This Quick and Easy Apple Tart is, well, quick and easy. Plus, it's fall flavors are strong and evident within the recipe (like apples and brown sugar). Save time by using store-bought pastry dough instead of making your own. Chopped pecans give this dish — one that's both prepped and cooked in 30 minutes — a flavorful crunch. Lemon juice adds a bit of acidity to highlight the sweetness of the apples. You'll want to save this recipe for next time you find yourself hosting a last-minute autumn gathering!
Nothing says quick and easy like "no bake," and that's just what you'll get with these Cranberry Cashew Clusters. If you have guests coming over on short notice or need to prep something to send to a potluck, these sweet little treats are a great option. Not only do they taste good, but they look like they took much longer to prepare. You'll have about 25 minutes of work to do, then they simply sit for half an hour before they're ready to eat. You only need a few ingredients including vanilla, rice cereal, cranberries and a little chocolate. Plus, you can make them ahead of time and store in an airtight container in the refrigerator for up to a week!
Any of the above dishes would be great additions to your recipe book anytime, but fall is an especially good time to give them a try. The seasonal ingredients are readily available, the aromas coming from your kitchen will be inviting, and loved ones will be coming around the table to enjoy good food and fellowship.