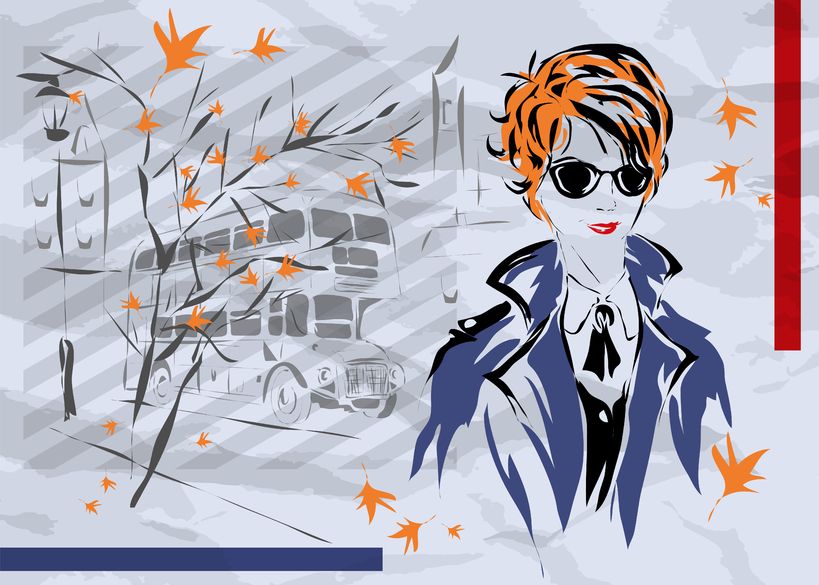 It's time to pack away your summer styles and usher in new, trendy outfits for fall. From your cubicle to your favorite hangout for cocktail hour, autumn fashion is uniquely versatile.The weather is cooling down, but it's not completely arctic yet, so you have a few different options to choose from when it comes to your wardrobe. However, there are a few essential pieces that can easily be dressed up or dressed down, depending on where you're dressing to go.
Looking chic doesn't have to require runway-esque clothing — take these five fall wardrobe essentials and make them work for you out there in the real world. Bonus: you probably already have at least one of these in your closet!
The Tailored Blazer
You have several choices for your outer layer; there's a lot to be said for a lovely trench coat or the perfect edgy leather motorcycle jacket. (In fact, those items almost made this list, so don't discount them.) If we're talking essentials, though, the tailored blazer wins hands down. To choose your best fit, Forbes recommends picking a blazer that is fitted across the shoulders without being stretched too tight. The hem should be hipbone-length, and it should button easily but still have a defined silhouette when you wear it open.
Dress it up: Make your office attire pop with a quality wool blazer (like this one, and check out the colors). Pair it with a pencil skirt, a floral top and some statement heels. Ditch the glitter on your nails and eyes, by the way — this season, stick to a palate of rich mattes.
Dress it down: For your fall errands, wear a neutral-colored fitted blazer in a casual material (like this one in linen) with a classy fitted v-neck tee and your go-to skinny jeans.
The Dark Pant
It is no secret that dark pants are more slimming, but they're also incredibly easy to take from day to evening. Whether you're sporting classic black trousers or your favorite dark-washed denim, the dark pant is a wardrobe must. There's no wrong answer — just find a style that makes you feel confident!
Dress it up: Pop your favorite biker jacket over a nautical-inspired striped t-shirt and pull on your best pair of dark denim (like these). Add a bright heel and arm cuff to complete your going-out look.
Dress it down: A black pant that is comfortable and cropped? Count me in. Pair something understated (like these) with some slip on canvas shoes, look-at-me accessories and a bright red lip color.
The Nude Shoe
Shoe-aholic or not, you need a nude pair in your closet for fall. Nude shoes go with everything and allow the rest of your outfit to make the statement (while still making a sexy, subtle one of their own).
Dress it up: Pair a show-stopping nude heel (like this one) with your shirtdress for an effortless autumn ensemble.
Dress it down: Bye bye, summer sandals. Want to be comfortable and stylish this autumn? Put on your favorite cropped pants, slouchy cashmere sweater and a versatile pair of nude flats (like these).
The Layering Tee
This could go several different ways — layering tee, layering tank, long-sleeved layering shirt — you get the idea. While your sleeve requirements probably depend on your geography, the fact that every woman needs some good layering tees is a universal one. When all else fails, you can always grab a layering tee and a good sweater to pull together a last-minute look.
Dress it up: Wear a longer layering tee with a little embellishment (like this one) with your classic A-line skirt, cropped cardigan, and a necklace with an elongated chain. If you're headed to happy hour after work, ditch the cardigan and add some strappy heels to transform your look.
Dress it down: Coming in a healthy selection of colors and fabrics, versatile layering tees (like this one) are the base of many weekend outfits. Have a sporting event to attend? Tie your team jacket around your waist, put on your white tennis shoes, add a layering tee (over a layering tank!)—and you're off!
The Shirtdress
Rarely does an article of clothing so comfortable induce so much confidence. From a relaxed to a tailored fit, a shirtdress is a simply pretty and cost-effective addition to your fall clothing lineup.
Dress it up: A shirtdress doesn't have to be uber-casual. More formal styles (like this one) can keep you office and date ready. Mix it up by adding a trench coat and bold eye color.
Dress it down: Light, breezy and perfect for wearing over leggings if the air gets chilled, a patterned, low-key shirt dress (like this one) is simple to pair with flats or those boots you've been dying to wear.