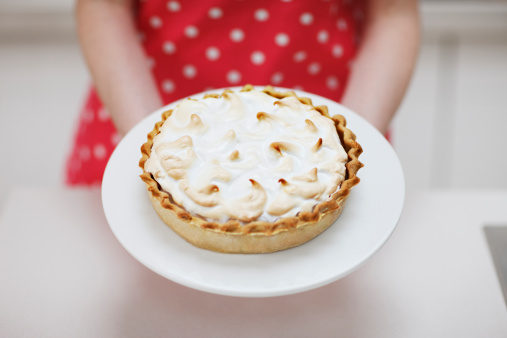 Today, January 23rd, is National Pie Day! Although the banks and post offices are still running and we don't get the day off from work, we still like to think that it's a government-sanctioned (we use that term extremely lightly) day to forget about our New Year's resolutions and indulge our sweet tooth. In honor of this very important holiday, we've compiled the recipes of five pies that you can whip up to celebrate this day in style, the way it deserves to be. Enjoy!
Blueberry Pie —  Martha Stewart has our mouths watering with this delicious sweet and slightly tangy pie chock-full of blueberries and their helpful little antioxidants. Imagine it being served fresh out of the oven, with some delicious lemon sorbet — heaven really does exist, and it's at the end of a fork.
Pumpkin Cheesecake Pie — Good Housekeeping gives us a nice, not to mention welcome, twist on an old classic by introducing cream cheese into the mix. This recipe requires you to make your own dough, but if you want to use store-bought dough, go ahead. Don't worry, we won't tell.
Mini Apple Pies — This recipe is perfect if you're having guests over for dinner and want to impress with individually-made deserts. The fat that they're smaller than normal pies also means that they'll take less time to bake and cool. You'll need four 5-inch minie pie dishes for this recipe, so make sure to order or buy those in advance so you have them on hand when you start off. A little dollop of vanilla ice cream will take this dessert to the next level and make sure your guests want to come back for dinner again (which can be good or bad depending on who your guests are, can we get an "amen?")
Pear Praline Pie — When we think about food matching, "pear" and "pecan" isn't the first pair to cross our minds. We're proof that first thoughts aren't always the best ones — the sweetness of the pears, the crunch of the pecans, and the sharpness of the ginger sound like a combination too delectable to pass up.
Chicken Pot Pie — Have you had your sweet tooth extracted but still want to join in on the fun? Not to worry — we've got you covered. This recipe, courtesy of Ina Garten AKA the "Barefoot Contessa," is savory and delicious and rich — the definition of comfort food. And isn't pie, no matter savory or sweet, as comforting as it gets? This recipe is sure to take the chill out of any winter or fall day. This dish does take a bit of prep and cook time, so plan accordingly.