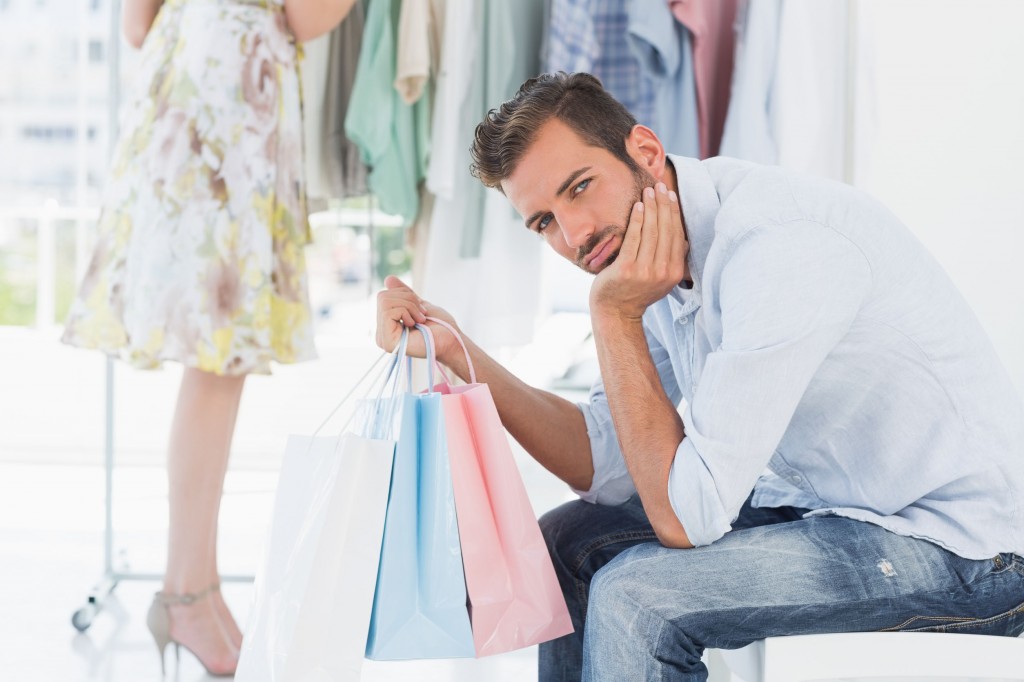 Whenever I go to the mall, I always see the same sight over and over again: some poor guy, standing outside of the dressing room at Forever 21, holding endless shopping bags in his hands while he waits for his girlfriend to finish trying on her fortieth top in the last hour. Judging by the bored expression on his face and the fact that he glances at his watch every thirty seconds, it's apparent that he would rather be doing something (read: anything) else.
Personally, I prefer to go shopping by myself or with a girlfriend, not my boyfriend. It's not that I don't enjoy spending time with my boyfriend – quite the opposite, in fact. It's just that I don't deem it necessary to drag him along with me to every single little thing that I do. Sure, he's down to come with me for a quick Rite-Aid run, but I would rather that he not accompany me to places like Forever 21. Why? Unless he's looking for new threads himself, I don't like the idea of having someone waiting on me because then I feel rushed… and I don't do well under pressure. Besides, I can always count more on one of my girlfriends to give me a more detailed and thorough opinion on the clothes I'm trying on, as opposed to a boyfriend who thinks I look good in everything I wear — which is great for my self-esteem, but not so helpful when I'm trying to make some sound decisions and figure out which items I should buy and which ones I should nix.
I think it's important to note, however, that shopping can be a wonderful activity that a couple can partake in together – as long as the place they're going to is agreeable for both. Every guy is different, too. Some men love shopping and are even more into fashion than their ladies are, in which case I say, "Go for it!" But if your man is the kind of guy who prefers to spend his Saturday watching soccer at the bar, then why put him through the unnecessary torture? The way I see it, dragging a guy into Forever 21 and trying to get his opinion on various items of clothing is the equivalent of being dragged to Home Depot and being asked for my opinion on hundreds of different types of nails and screws. To me, they all look the same. And of course, he won't get the answer he's looking for. No one wins.
Call me old-fashioned but, ti my opinion, there are certain places that boyfriends just don't need to be dragged into, like the MAC makeup store or Linens n Things. Places like Zara (which has a men's department) could make for a good shopping experience together if you BOTH are in need of some new duds. Target and other more general stores aren't an issue at all, because while you're off in one department, picking out hand towels, he has his run of the rest of the place. And then there are places like Home Depot, which I will gladly let him go to by himself. Because I have no clue what I'm doing in there, and then it gives him the chance to come home and show off his savvy skills next time I need something fixed or assembled around the house. Everyone wins.
---
By: Kamala Kirk