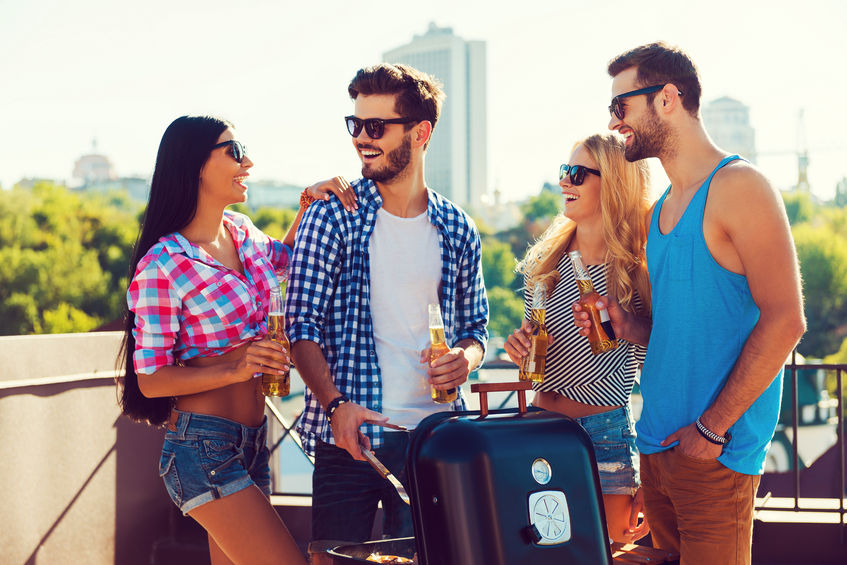 So, you missed Labor Day. No worries — lucky for you, summer doesn't officially end until September 23rd, which means that you still have time to throw one last get-together before the season's over. Do you have any idea what you'll be serving? If not, we at Weekly Sauce have five fresh recipes that should work perfectly for you and you are loved ones at your Goodbye Summer bash. Check them out!
To Start
Veggie Kebabs
Your doctor says you need to start eating more vegetables, but how you eat them all is up to you. We say skewer and grill those babies up! The medley of different summer vegetables — ranging from delicious cremini mushrooms to succulent cherry tomatoes — will be enough to entice any palate, and the tangy vinaigrette will complement the natural sweetness of those wholesome veggies. They'll make the perfect appetizer for your meal. Tip: don't trip if you don't have a grill or don't feel like firing it up — with a little tweaking, your oven broiler will do just fine. To get the recipe, which serves 8, head on over to Epicurious.
Fried Mozzarella, Basil and Nectarine Stacks with Balsamic Glaze
Just take a second to imagine the explosions of flavor that will occur on your tongue when the sweetness of the nectarine, the sharpness of the basil, and the tangy creaminess of the mozzarella hit your taste buds. Are you still with us? Good. Fried mozzarella is a gift from the culinary gods, and Tieghan Gerard over at Half Baked Harvest are here to take you to church. Tip: make sure you serve these puppies warm since you'll want the cheese to be nice and gooey. You can find the recipe, which serves 4, and mouthwatering pics on Half Baked Harvest.
The Main Course
Salmon Burgers
If you want a traditional summer-bash menu but don't feel like sticking to traditional summer-bash recipes, why not swap the beef in your burgers out for some salmon? It's a healthy — not to mention — tasty option that's sure to be a hit with your guests. The horseradish-dill sauce will be a nice change from your usual ketchup-mustard combination, too. Tip: prep the uncooked burgers and the horseradish-dill sauce the night before so you can throw them onto the skillet when it comes time to get your grub on. The recipe, which serves 4, can be found at Food & Wine.
Crab Cake Sliders
Let's keep the seafood-entree/food-on-a-bun theme going with these delicious crab-cake sliders from Food Network Kitchen. Everyone likes crab cakes, and everyone likes sliders, so combining the two is pure genius. What's nice about these, particularly, is that the crab-to-cake ratio is pretty high, meaning you'll get lots of juicy meat to enjoy. Tip (from reviewer mkhim0516): "use a mixture of claw meat and lump crab meat to add a contrast in texture and flavor." For the full recipe, which makes 15 sliders but can be modified based on how much or how little mixture goes into each cake, scuttle on over to Food Network.
Something Sweet to End Summer Perfectly
Amaretto Chocolate Chip Cookie Sandwiches
Who said the only fun way to get a little tipsy is to do it with a drink? These tasty treats, courtesy of Giada De Laurentiis, are sure to be a hit with your crowd, with the almond complementing the amaretto liqueur perfectly for a toasty, flavorful take on our childhood chocolate chip cookies and ice cream. Tip: the ice cream mixture will need at least 3 hours to set, so think about prepping that the night before. And make sure to set your oven to 375°F instead of the 325°F the recipe calls for, or you'll be slaving over that hot oven for hours. (Thanks, LuAnn V.!) The recipe, which makes 2 dozen ice cream sandwiches, is over at the Food Network as well.
Let us know which recipes make it into your end-of-summer bash!