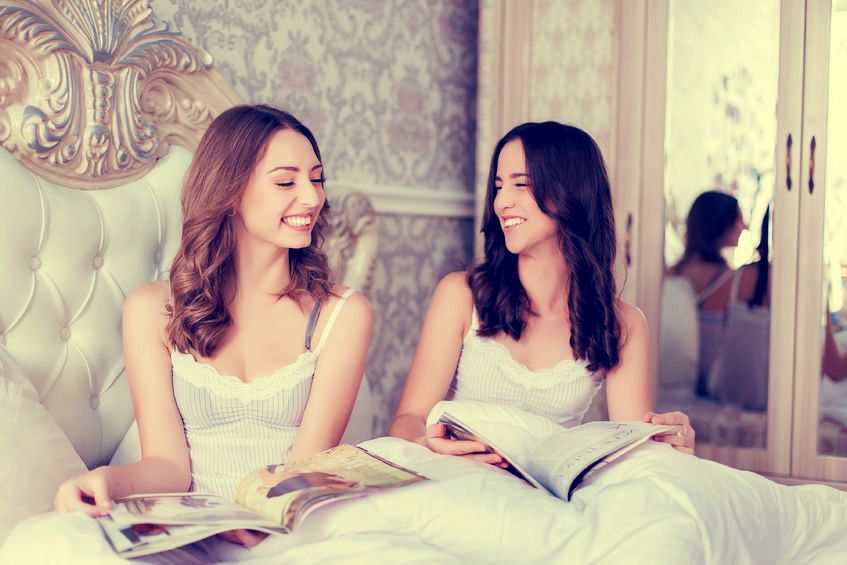 It's been a minute since you had a chance to sit with your best girlfriends. You guys are grown now, and you all have your separate lives, but it's still important to hang out like you're still in high school when you can. Going out for drinks is easy, but sometimes, being together at home is just as fun. So take a look here at Weekly Sauce's tips for your Girls' Night In, get your schedules aligned, and throw on your sweats for an evening of fun with your favorite ladies.
Get Cookin'
You girls have been pretty good about eating right. Salads, green juice, vitamins… Tonight, give that diet a rest and get together for the ultimate splurge. If you have a grill, maybe you can give your nosh night a barbeque theme. Think about it: seared hangar steak with fresh roasted corn salsa? Yum. Or if you're really adamant about sticking to your diet, maybe you guys can all offer your healthiest dish. Have everyone either bring their items or just the recipes — and ingredients — and enjoy each other's company as you get dinner ready.
Hairy Situations
You wear your hair straight all the time. Why not have the girls over and see what other styles fit you? Or even if you girls just want to swap products out and have a full-on Beauty Night, do it! Grab some tools: curl wands, flat irons from CHI, or the Phuse What A Lightweight dryer. The latter is one of the best ways to dry your hair without frying your strands. The dryer itself is only 16 ounces, so it's easy to handle for an extended period of time, and the ionic generator leaves your tresses super shiny. In fact, if you are thinking of a Beauty Night In with the girls, and you're addicted to buying hair products, maybe you could join forces with Phuse Beauty and save a couple dollars while you're at it. The company offers hostesses the opportunity to earn credit towards their next purchase, which can be applied to everything from Phuse shampoos to makeup brushes.
Swap It Out
You have a dress in your closet at home that still has the tags on it. For whatever reason you ran to the mall, saw it in a store window, and bought it without even trying it on. Now it's collecting dust. Get your favorite girls together — they, no doubt, have the same story to tell about at least one item in their closets. And it doesn't have to just be clothes either — have everyone bring shoes, purses, anything they aren't actively including in their wardrobe. Up for grabs, down for keeps!
Dance Party
Get a little exercise in while the girls are hanging out. If you've never tried it, Just Dance is an easy pick to get the blood pumping. On October 20, Just Dance 2016 is scheduled to be released, and the newest edition will feature tunes from industry mainstays like David Guetta, Mark Ronson, Demi Lovato, and more. If you're planning to have your party in the next week or two though, go with the 2015 version that's already in stores, and dance it up to songs like Maroon 5's "Maps" and Pharrell's "Happy." Just Dance is available for the Playstation 3, Playstation 4, Wii, WiiU, XBox 360, and XBox One.
Wine Down
Grab a few bottles of wine and get it poppin' — the corks and the party, we mean. Be sure to note everyone's preference beforehand — some people simply aren't into tannins. For those girls, grab plenty of white wine in a variety of grapes, even if you're the only one drinking red. Still, even with this difference in preference, definitely encourage everyone to try a taste of something outside of what they always drink. If they like sweet white wines, they may love a port wine if they give it a shot. Tonight is the night to be adventurous!
Movie Night
Are you one of those lucky girls with a Smart TV and a Netflix account? Awesome. Depending on what your girlfriends are into, have everyone come over with treats like chocolate-covered raisins and Junior Mints, then pop some popcorn and settle in for a sleepover. If your girls haven't been keeping up with some of the more popular shows on the network, introduce them to House of Cards, or if they're into action and adventure, try Daredevil. Of course you don't absolutely have to do Netflix — it could be a throwback night of DVDs you all love, as long as you're kicking it together for the night.
Play With Makeup
Anybody can learn how to do pretty much anything from YouTube tutorials these days. That's the beauty of the internet. Still, out of your entire clique, there's only one of you that can draw the perfect eye or a beautifully-sculpted contour — and she's the go-to person every time you all go out. As a thoughtful gift, you girls ought to put your money together and grab her one of the new NARSPro Palettes. It's a brand-new line of makeup from the company, offering budding makeup artists the option of creating their own palettes for the cheeks and eyes out of the 64 refillable shades available. Or, if you'd like to keep it a secret until the night of your party, grab one of the curated palettes created by two of the company's international pro artists. All that's left to decide on is whether or not you want to grab her the small or the large set and how you'll convince her to put it all to work during your get-together. Those who can should do and teach, am I right?