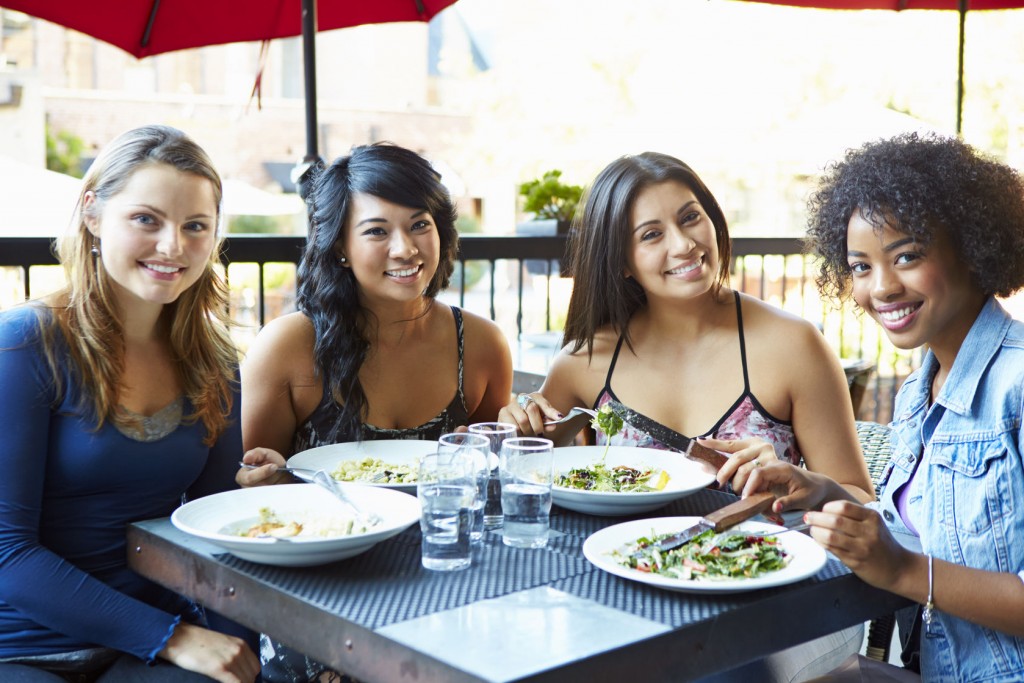 Whether you have a group of besties or just one really great one, she deserves to be celebrated every once in awhile. Especially when there's been a major life change, from expecting a baby to preparing to hit the "Restart" button in a whole new city. What are friends for if not to help plan parties? Of course, the best celebrations are surprises, but if you'd like, you can definitely include her in planning the festivities. So put your heads together and figure out the best way to throw your bestie a shindig for whatever reason you feel like celebrating.
She's Engaged
The minute you met the boyfriend, you knew he was perfect for your girl. Of course he loves her — he'd be a fool not to. Finally, there's been a proposal and you're one of the first people to hear — it's time to plan a party. Depending on their tastes, you can go to dinner or go to a dive bar; after all, not every engagement party has to be uptight or frou-frou. Just be sure to consult with them about which they'd prefer — or maybe you could even do both! Pass out costume diamond rings with personalized ribbons tied to them as favors.
She Finally Broke Up With "That Guy"
The same way that you can know that someone's a good match for your bestie, you can know that another guy's the worst match possible. But she didn't listen and the jerk took her on the ride of her life during their relationship. Finally — and inevitably — they've broken up. It may seem insensitive to be celebrating right now but trust, this is the time to get excited. Your best girl needs to remember how incredible she is and how much she has to offer, not only a man, but to the world. That's where you come in. Grab the whole squad and head to the spa for the full workup, then the salon for hair, makeup, lashes and whatever else, then hit the town for the night. She's sure to replace "that guy" in no time, or decide that she wants to spend this time getting reacquainted with herself. Your mission is to make sure she's focused on the future and not the past. Hand out shades from OPI's High Shine Collection as favors and keep the pampering going.
She's Having a Baby
You may not know the first thing about babies — the proper temperature for a bottle, the appropriate toys for newborns, etc. — but you know that this new baby makes you a new "auntie." If this is your bestie's first, remember that she's sure to be a hundred times more freaked out than you are. Take this as an opportunity to get the whole crew excited to be expecting a little one. Janelle Monae plays well for a party with mixed company — she may want her co-workers to come, too. After all, you guys can't have her all to yourselves! Do the typical stuff for her shower — gifts, maybe a game or two — but keep her wants in mind. Just like her pregnancy, she'll want this party to go off without a hitch. As far as favors, these are easy. You can order some candles online with personalized ribbons attached, or do something as simple as buying plastic bottles in pink, blue or yellow and filling them with candies (i.e. M&Ms, Skittles, etc.).
She's Starting a Business
Unless you have a small business of your own or come from a family of self-starters, this could seem like overkill — but try and remember that it's a big and scary  step for many to start working for themselves. It's also something worth celebrating. More likely than not, there have already been people in her life sharing their doubts, so be that ray of sunshine and give her a little encouragement to start with. If she already has a workspace, it could be cool to plan a Non-Business Lunch before her real work kicks in. Hire a caterer, keeping in mind that it doesn't have to be super fancy. Have all the girls come through with special office presents — whiteboards, dry erase markers, push pins and planners. Granted, these aren't exciting gifts, but believe us, your friend will be happy to receive them since it means you're supporting her new position as a business owner. As favors, pass out a few Moleskine Volant Journals for idea-jotting — who knows, your bestie may inspire a ripple effect.
She's Moving Away
You guys have been like peas in a pod since you met. Now she's moving on, starting over again in a whole new town to begin a whole new chapter of her life. It'll be an adjustment. No weekly dinners, but hey, at least there's Skype. No shopping excursions, but you can do seasonal meetup at the closest outlet between you (thank you, frequent flyer cards!). Plan an early housewarming to make sure she's set when she moves in. Have the girls come over with packable items — for example, if one of them brings a glass vase remind her to bring paper and a box, too. In fact, you guys can make it a boxing party as well if she still needs help putting it all away for shipping. Talk about your best times out and about in the city and what she's looking forward to most in her new city. For favors, think about how you guys met: if you all met in grade school, one cute idea is to grab some of those mini tin lunchboxes and fill them with treats — from Lip Smackers to pictures of you guys through the years.
Remember: the most important thing is that you're celebrating your friend and how much she means to you. Let that spirit infuse every moment of your party and you'll have a hit on your hands.