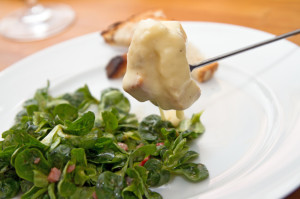 Whether you're looking for sweet or savory, here are a couple slow-cooker recipes that will add some sugar and spice to your weekly menu!
Slow-Cooker Cheese Fondue
prep time20 min
total time3 hr 20 min
ingredients6
servings10
Ingredients:
1 can (10 3/4 oz) condensed cheese soup
1/4 cup white wine or apple juice
2 packages (8 oz each) process Swiss cheese slices, chopped
1/4 teaspoon garlic powder
1/8 teaspoon ground nutmeg
1 loaf (16 oz) French bread, cut into 1-inch cubes
Directions:
1. In 1- to 2-quart slow cooker, mix all ingredients except bread.
2. Cover; cook on Low setting 3 hours.
3. Stir fondue until smooth. Serve bread with fondue, spearing bread and dipping into fondue. If necessary, cover fondue and hold in slow cooker on Low setting up to 2 hours.
**Be sure to purchase processed Swiss cheese instead of natural Swiss cheese. It keeps the fondue smooth and creamy throughout its long heating time. Cut sliced cheese into pieces or strips for complete melting.
Slow Cooker Chocolate Fondue
Ingredients:
18 oz. semisweet chocolate, chopped
1 oz. unsweetened chocolate, chopped
6 oz. milk chocolate, chopped
13 oz. can evaporated milk
¼ cup powdered sugar
1 tsp. vanilla
Fruit, cookies, and cake pieces for dipping
Directions:
1. Combine all chocolates, milk, and powdered sugar in 3 quart crockpot.
2. Cover and cook on LOW for 45 minutes.
3. Stir well, add vanilla, stir again, and continue cooking if necessary to completely melt chocolate. This can be held on low for another hour.
4. Serve with dippers.
5. Think of unusual dippers to use – marshmallows, candy bars, and cookies would be delicious.