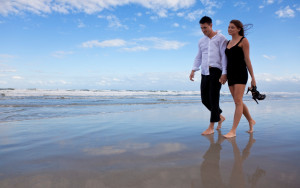 Looking for love can be rough.  Between the bar scene, blind dates and online relationship sites, it's a real jungle out there for single women hoping to find a nice, normal guy.  But looking for that special someone often times means going outside the box and searching for Mr. Right in the right place.
The Dog Park
Though it may no longer be original, I couldn't help but mention it.  Dog parks are chock-full of men who are proving their ability to commit.  Owning a dog is no easy task and definitely requires a commitment of time, money, compassion and love.  Whether you have a dog yourself or need to borrow a friend's, grab Rover or Fido and head to your local dog park.  Meet a guy with a dog puts you several steps ahead of the game, as you already know he isn't afraid to commit or love.
The Driving Range or a Golf Course
In my experience, I find that men who play golf are a cut above the rest.  It's a game that requires intelligence, patience, tenacity, a desire for self-improvement and ambition—all qualities that are key in a relationship.  They also tend to be cute and well-dressed.  If you've never played the game, find a driving range where you can rent a club or two and practice your swing.  Or, if you have access to a bona fide golf course, practice your swing there.  Either way, I'm sure you'll stumble across a handsome, well-mannered guy who would be more than happy to help you find your natural grip.
Join a Group of Like-Minded People
Whether you enjoy hiking, biking, running, reading, wine tasting or bug collecting, I can pretty much guarantee there's a group set up for others like you.  Thanks to the internet, people of similar minds are now able to connect, chat and even organize meet-ups where they can mix and mingle among folks with common interests.  These groups also allow you to already be one step ahead—you know there's some common ground.  Between the Sierra Club, book groups, beer college and running clubs, there's a group out there for everyone, chock-full of people eager to meet a kindred spirit.