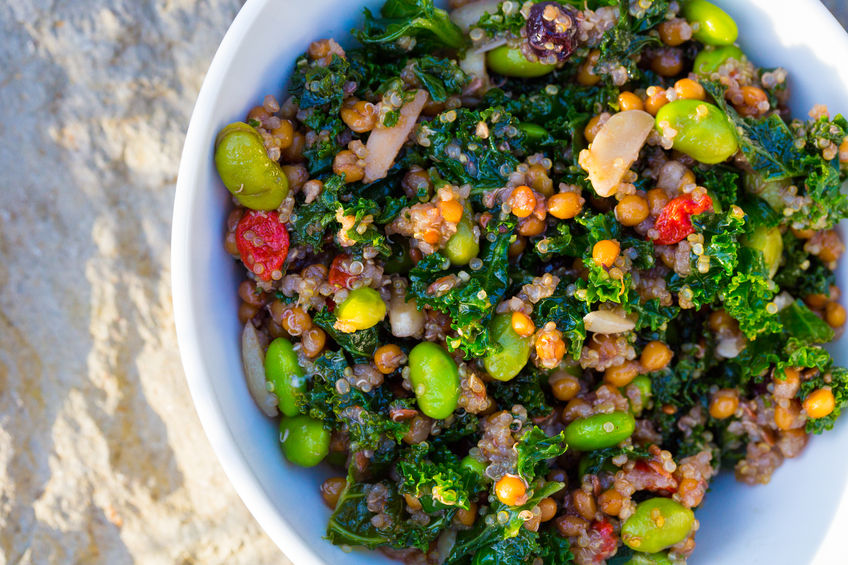 South Beach Diet. Atkins Diet. Glycemic Index Diet. Grapefruit Diet. HCG Diet. Mediterranean Diet. There are a ton of options for dieters, but which ones really work? And, if you do happen to see results, is what you're doing really good for you in the first place?
One eating plan that has garnered some positive reviews and seems to have a healthful basis is the Paleo Diet, explored further below.
What is it?
The Paleo (Paleolithic) Diet is often referred to the Caveman Diet because it requires you to, well, eat like a caveman. Basically, if your pre-agriculture hunter-gatherer ancestors didn't eat it, you don't either.
Those who follow the Paleo diet eat grass-fed meats, nuts, seeds, fruit, seafood and vegetables. They also drink lots of water. Paleo-enthusiasts do not eat dairy, grains, legumes (like beans), sugars or most processed foods. They also avoid alcohol and coffee.
Not really touted as a way to lose weight quickly like many fad diets, Paleo is instead more of a lifestyle switch from processed foods to whole, natural foods. You will likely lose weight if you decide to embark on the journey, but it may not happen quickly. You'll have to retrain your brain away from what you've been taught with other programs to succeed with a Paleo plan.
Proponents Say…
Lots of people love Paleo and sing its praises. There is no calorie counting involved (hooray!), and many report that eventually the body simply starts to crave healthy food once the processed options are (literally) off the table. Caveman dieters often say they feel more mentally sharp without all the preservatives and other unnatural ingredients in their systems.
In addition, excluding salt and sugar — two substances that have a host of health problems related to their overconsumption — can't be all bad, especially considering the obesity epidemic. Plus, you get to eat a lot of real food that is really good. Steak and eggs, anyone?
Opponents Say…

Where are the starches? I'm pretty sure we all have seen a food pyramid in one health lecture or another, and starches definitely have a place — a big one, if I remember correctly. Whole grains can reduce inflammation and help the body better regulate glucose, amongst other things In addition, carbs are energy. As a long-distance runner, I rely on my pre-race whole wheat pasta. (Note: There are, of course, other sources of carbs besides pasta — even Paleo-friendly ones.)

Opponents also say that eating too much fat and too little carbs can actually make Paleo dieters feel sluggish and have a negative effect on metabolism. In addition, people who went on the high-protein diet have reported intestinal difficulties and irregularity. It's can be a big change to your system.

So, what's for dinner?

As with any diet and lifestyle plan, there are the in-betweeners. Strangely enough, those in-betweeners often are able to stick with things longer than by-the-bookers. That said, some folks call themselves "Paleo-ish." Many enjoy the occasional glass of red wine even though it is not technically permitted. Others completely ditch the no-dairy requirement altogether but follow the rest of the rules.

Essentially, any food plan that trades processed foods for fresh produce and meats is likely going to serve the dieter well in some fashion. If you're thinking of going Paleo, first decide if you're going to go all-out or be an in-betweener. Be careful not to remove too much fat from your diet out of habit — in other words, go for the whole egg and not just the whites and don't skimp on the oil just because you've done so in the fast. You need enough fat in Paleo-land, and you need to make sure you're eating enough to keep you full. Remember, you're not counting calories anymore.

For a complete rundown on the Paleo diet, click here. If you're thinking of trying a simple new Paleo recipe, consider Nutty Trail Mix, Chocolate Chip Almond Flour Muffins, Crock Pot Pork Loin or Paleo Chicken Salad.