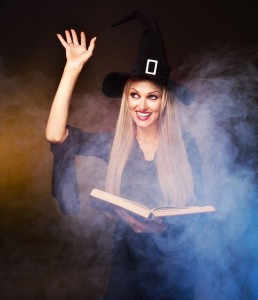 Halloween night is just around the corner, and it really is one of our favorite holidays of the year. Whether it's inviting friends over to carve pumpkins and drink cider, or waiting around eagerly anticipating the arrival of adorable trick or treaters at our door, we just love it all. One of our favorite parts, of course, is dressing up as something fun for all of the awesome parties we usually end up attending.
Picking a costume is never easy, and we try our best to come up with something a bit unique when we feel particularly inspired. Here are some ideas from year's past, as well as some cute things we found on the inter web.
1)
Harajuku Girl
– This was definitely one of the most fun costumes we've put together, and it really allows for the addition of your personal taste. We've provided a link to one style of Harajuku, but if you do a full Google Image search, you can find endless amounts of inspiration.
2)
Comic Book Girl
– We've always wanted to dress up like this, and absolutely love the make up styling used to create this costume.
4)
Instagram Selfie
– This is one we think you may see a lot of this year, but it's still hilarious. There is something very meta about taking a picture of yourself (a selfie!) dressed as, well, a selfie! We may have make this one just for the humor of that one picture.
If these fairly unique ideas just aren't cutting it, you can go as any of your favorite pop culture references: Miley Cyrus' foam finger, anyone from Breaking Bad, or any Lady Gaga/Katy Perry inspired ensemble!
Happy Halloween!