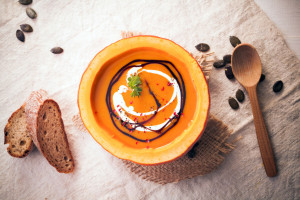 While it may not be cooling down AT ALL in Southern California, we are still going along with the season change and welcoming in all things fall related. We've been celebrating Halloween for a couple of weeks already, bringing in spooky decor and changing our at-home menu items to include lots of delicious fall ingredients.
One thing we love to do is make soups! With the recent addition of an
emersion blender
to our kitchen tools (if you don't have one, stop reading now and go buy one. It's worth the investment), making them has never been easier. Soups are also a great, healthy option to add to your weekly meals, and are easy to store to eat for multiple days.
Here are some of our favorite fall inspired soup recipes to try:
1)
Roasted Butternut Squash
– This is a recipe we've been making like CRAZY since butternut squash came back into season. It only has four ingredients (squash, apples, onions, veggie broth) plus some seasoning, which means not only does it taste good, it's really good for you.
2)
Apple French Onion
– This is a recipe we've been dying to try, but haven't quite yet. But we can usually spot a good recipe when we see it. The combination of apples and onions is a new favorite of ours this season, so we really need to make this recipe happen. We'd replace the beef broth with veggie, however.
3)
Fall Veggie Soup
– We love a good veggie soup, and this one incorporates some delicious fall selections, in addition to white beans, creating one hearty soup for a cold day.
4)
Pumpkin
– Our list would not be complete without a pumpkin soup recipe, and this one looks pretty amazing. The combination of thyme, garlic, celery and carrot sounds too good to pass up. Don't be afraid to roast a pumpkin if you haven't done it before, it's way easier than you think!
What are some of your favorite fall recipes? Please share them, we love adding new items to the mix!