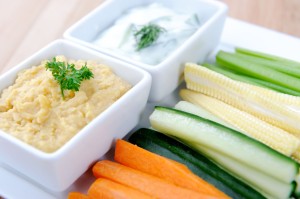 Hummus is a healthy snack that we absolutely love, and it's incredibly easy to make. While we have definitely found some delicious, store bought options, we also enjoy making it at home, and love the amount it yields combined with the fresh taste of a home cooked item.
For most recipes, you need the following: chick peas, lemon, tahini, salt, garlic and olive oil. The spices and flavors vary from there, but those are the staples to keep in your pantry so it's always available to make.
Here are some recipes we love.
1) Red Pepper Hummus – This is a favorite recipe of ours. We make it at least a few times a month, and pair it with raw veggies like broccoli, cucumbers, and zucchini. The color is beautiful, the flavor is amazing, and it's a fan favorite whenever we make it.
2) Sun Dried Tomato – Sun dried tomato is a great flavor to add to hummus, and is always great paired with Mediterranean cuisine. This recipe seems simple, yet delicious, and we will definitely add it to our recipe book.
3) Basic Recipe – Halfway through writing this, we realized that we haven't presented you with a basic hummus recipe! Everyone needs a good one, and we think this looks wonderful. Keep this on hand any time you want to whip up a quick treat!
4) Red Beet Hummus – We've never tried this before, but we love beets, and the color is so gorgeous it's almost a no brainer. If you end up making this one, please come back to the comments and let us know what you thought.
Keeping healthy snacks around is incredibly important, and making things from scratch ensures you know exactly what is going into the food you make, and into your ever important body! Happy eating, and enjoy these new recipe ideas in the New Year!