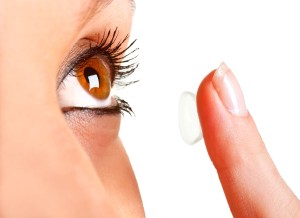 If you're part of the non-tech nerd general public, the Bill Gates look never really worked. (Neither did that pocket protector.) And even if you do happen to hang in Silicon Valley, there's no reason to stage five cling to your four-eye status.
It's been about 120 years since a German ophthalmologist constructed and fit the first successful contact lens. The initial lenses were made of glass, but now contact lenses are made of much more forgiving materials, and available for any vision need. Which means, you no longer have an excuse. We aren't saying glasses aren't chic. There are some seriously styling pairs out there. But there's a time and a place for everything. And sometimes it's just more practical to pop in a pair of contact lenses.
When Opportunity Knocks, Sometimes It's Not Enough to Just Hear It 
Picture this. You're near-sighted. You're sitting at lunch, enjoying a meal with your best friend. Your totally sophisticated specs are laid casually on the table next to you. You don't need them at the moment. Your friend is five feet from your face. But across the room, the potential love of your life is trying to catch your eye. Except he's a total blur to you. And in the blink of one blurry eye, love is on his way out the door, and you're spending Valentine's Day with your dog. If you were wearing contacts, this never would have happened. See you aren't unlucky in love. You're just blind to it. But there is a really simple solution: A contact lens so simple to use, you have no reason to hold onto those old glasses.
Alcon Dailies (lenses you change daily) moisturize with every blink, right up to the end of your day. No other brand of contact lens has this ability. Which means, if you're wearing Alcon Dailies your vision will never be the reason you miss a major opportunity.
Plus, Alcon Dailies might even help create opportunity, by saving you time with their EyeFile System. Don't waste more time than needed managing your eye care. With EyeFile you can: get reminders for ordering lenses, manage your appointments, and find eye doctors near you.
Day and Night, Night and Day. Lenses So Good You Can Sleep in Them
Let's say you already converted to contacts, but you're known to doze in the middle of a good book, or 9 episodes into a Netflix binge session.
Or maybe still, you work an on-call job that requires you to jump up at get at 'em at any hour of the night. 120 years ago it would have been totally impossible to sleep in those glass lenses. And sleeping in lenses that approved for overnight can cause discomfort, blurred vision, or other more serious and potentially damaging issues.
But today, AIR OPTIX® NIGHT & DAY® AQUA  contact lenses are FDA-approved for daily wear and up to 30 nights of continuous wear. So whether you simply don't want to worry about falling asleep in your lenses, or whether you don't want to worry about popping them in when you're in a hurry, treat yourself to stress-free sleep. These are contact lenses most recommended by eye care professionals for patients who sleep overnight in their contact lenses.