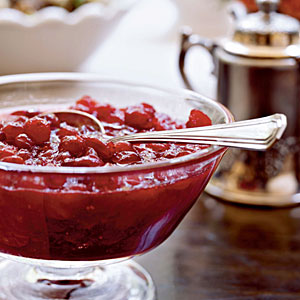 Leftover cranberry sauce (we're talking homemade, not that canned gunk) can seem so hopeless. From Thanksgiving to Christmas, holiday after holiday there's always a container of it that goes to waste because it can be such a tough dish to want to revisit once it's off the dinner table. But much like its beloved table-mates like mashed potatoes and turkey, it's actually really easy to give new life to cranberry sauce with a little creativity.
Blueberry Cranberry Muffins: A box of the ol' Jiffy Blueberry Muffin Mix that costs less than a buck is an easy way to use that remaining cranberry sauce without much effort. If you're feeling fancy, homemade muffins aren't too tough either, and the sauce makes a nice moist, fresh add-in to complement the from-scratch appeal. I also tried making cranberry brownies after Thanksgiving but they didn't turn out too great. Maybe with some tweaking, a greater culinary mind than me can perfect that one? Please feel free to share in the comments if you have any ideas!
Spicy Cranberry Relish: For Thanksgiving, I tried out a hearty homemade apple cranberry sauce for a nice twist on the traditional recipe, but I also put together a spicy cranberry relish for those of us who can't get enough heat and have a tough time finding accommodating condiments at holiday meals. I experimented with adding Pico di Gallo's tasty citrus-tinged Pico Limon seasoning, chipotle, pepper flakes,  black pepper, freshly grated ginger, and, of course, Sriracha chili sauce.
Making it from scratch for a meal was easy, but it's also a great way to use up already prepared cranberry sauce and experiment with seasoning. Not only will a spoonful give those turkey and ham leftovers a kick when you're starting to grow bored a few days later, think on sandwiches or in wraps, but pairing this piquant relish with cheese plate leftovers is a killer contrast for an indulgent snack. A little spoonful of rich goat cheese or creamy brie on a cracker topped with a dab of spicy cranberry relish is divine, trust me. It might work the same on a bagel too.
Cranberry Oatmeal: Another way that bright, bold cranberry sauce can really shine is paired with ordinary oatmeal. The tangy taste can make breakfast a lot more lively and since cranberry sauce contains "significant amount of vitamins A, C, E and K," according to FitDay.com, it's also a nice nutritional boost whether you're going the steel-cut oats route or opting for instant oatmeal. Remember the apple cranberry sauce I mentioned? Chunky homemade applesauce is so simple to make and stirs right into cranberry sauce for a great holiday dish, and then that becomes an extra delicious oatmeal add-in as well. Perhaps pancakes might be another way to start your day with cranberry sauce too?
What's your favorite way to keep leftover holiday cranberry sauce from going to waste? — Casandra Armour