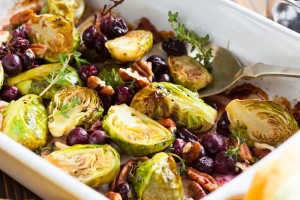 Move over kale, there's a new superfood in town, and it's Brussels sprouts! Yes, those green balls of hearty goodness that you used to make faces over as a kid and that all 80s movies depicted as revolting, are quickly becoming the new trend du jour amongst foodies – and for good reason. Check out just some of the reasons why Brussels sprouts should get a second glance on your next grocery trip.
Brussels sprouts are high in anti-cancer properties. It's true. They're chockful of sulforaphane and also contain something called indole-3-carbinol, both of which protect our DNA and reportedly block cancer growth.
Brussels sprouts have also been shown to lower cholesterol. Thanks to their high fiber content, steamed brussels sprouts in particular
They're an awesome source of Vitamin C. Don't want to eat more oranges when you're sick? Try a 1/2 cup of these yummy veggies instead. Just half a cup gets you 80% of the recommended daily amount of Vitamin C! (Not to mention tons of Vitamin A, Vitamin K, beta kerotene, folic acid and iron.)
They may increase your man's fertility. No,seriously. Brussels sprouts contain selenium which has been associated with increased male fertility.
They're versatile. Roasted, stir-fried, steamed, boiled, or just plain raw, these amazing little green veggies can do it all. And roasted with bacon, come on, who wouldn't love that?!
They're delicious. Don't believe me? Try this amazing Shaved Brussels Sprouts Salad recipe, and tell me again. Or check out this Crispy Brussels Sprouts Hash with Cider Glaze (mmm, I'm drooling now.) You can even make Brussels Sprout Chips!
No matter how you dice 'em these little guys are here to stay, and who knows, they may no longer be America's most hated vegetable. Stay tuned!