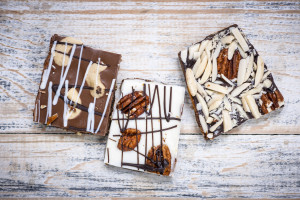 Whether it's dessert inspired drinks, or other sugary confections, we can't help but indulge. Which is why when we realized we can easily DIY some of our favorite candy bars, we kind of lost our mind. The idea that we could make them from scratch, knowing exactly what ingredients are going into the delicious treat is just an added bonus to the already awesome discovery.
1) Snickers Bar – Starting off with one of our favorite candy bars in the world, this peanut, caramel, chocolate mixture is an amazing find. We love that it adds peanut butter AND chopped peanuts. Yum.
2) Twix Bars – In the hierarchy of our candy love, the Twix bar is second, although very close to number one. This recipe seems pretty simple, and looks absolutely delicious. The photos also look very similar to the actual candy bar, which is always a plus!
3) Butterfinger – This is an old childhood favorite, and this recipe only calls for three ingredients. While one of them is kind of seasonal, we're sure you can buy them online all year round.
4) Reeses Bar – Sure, Reeses usually come in the cup form, but that's not stopping us from drooling over these Reeses bars. They are no-bake and only have five ingredients, which makes us very happy.
5) Almond Joy – While this candy bar may be low on the priority list for some people, we are HUGE fans of coconut and chocolate, especially when there is an almond in the center. We'll take three of these please.
We hope you've enjoyed our little list and are off to bake (or no-bake!) yourself a tasty treat.