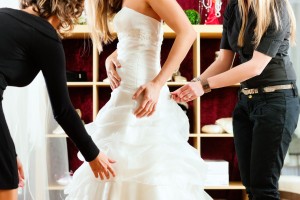 I've been engaged now for a few months, which means I am just starting to get in the thick of wedding planning. I'm searching for affordable venues, checking out different flower options, and yes, even scoping out the most important outfit of the day: my wedding dress.
I'm not a very traditional person, and like most brides, I want my wedding day to be very representative of myself and my husband-to-be. While going the normal route isn't the way we do much of anything around here, we also aren't completely opposed to some details you may find other places.
Either way, I really would like a dress that is unique, romantic and easy to wear, so I've been searching the web for some style ideas before I go out and begin shopping.
Here are some of my favorites:
1) Long Sleeved Lace – Alright, this first one isn't exactly out of the ordinary, but most brides I see are wearing sleeveless gowns, so seeing the added lace here really made me happy. I also love the addition of the floral crown.
2) Ivory Backless – This is for the bride who wants to be a bit more sexy on their wedding day. And by a bit more, we mean A LOT more. But hey, if you can pull it off, I say more power to you!
3) Gold Sequin – I've seen a few pictures of brides going a totally different route. Forget white with lace, they want all gold everything and I kind of love it. It takes guts to go completely out of the ordinary and I think that's great.
I really love that people are taking risks with their wedding attire, and feel inspired to do the same. My look will likely be more on the bohemian chic side, but who knows!