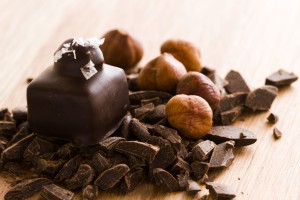 Calling all candy lovers! This post is for you! No, seriously, we are about to blow your mind with delicious recipes for making truffles at home, and it's not one to miss. Especially if you are a devout candy eater, like myself. Hey, we've all got our vices, right?
Anyway, today we are going to share with you some of our favorite recipes to make decadent homemade truffles. This post was inspired by a friend who makes them quite often, and we're never sad when she arrives at our parties with truffles in hand. Last time it was chocolate rum raisin, which is just as awesome as it sounds. Since we love her creations so much, we knew that it was time to browse the web for some inspiration.
1) Pecan Pie Truffles – With Thanksgiving just around the corner, why not mix it up a bit and bring over pecan pie truffles in lieu of a traditional pecan pie? Or just bring both and be the most popular guest at the party!
2) Eggnog Truffles – Another great option for the upcoming holiday season, this Eggnog truffle recipe sounds delicious! Instead of using rum extract though, we'd likely just go for the real deal!
3) Oreo Truffles – Anything that includes Oreo cookies is a-ok in our book. There is also cream cheese involved, which just makes our mouth water as we type.
4) Green Tea Truffles – A little white chocolate option for those who prefer it, plus, we love green tea desserts so why not give it a try! We picture this one being served at a luncheon somewhere. Maybe with fancy white gloves and nice hats. Anyone up for a mid-day tea party?
5) Coconut Truffles – We love that this recipe also includes hazelnuts. Coconut and hazelnuts are an awesome flavor combination, and since their is also chocolate involved, we're pretty happy about it all!