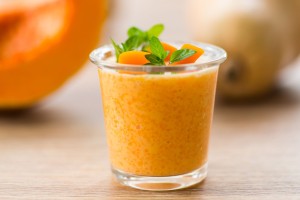 'Tis the season – from those ubiquitous Starbucks Pumpkin Spice Lattes that are being advertised just about everywhere, to recipes for all things pumpkin, fall is officially here! If you're looking for a different take on the usual pumpkin dishes, why not try a pumpkin smoothie? I know, at first it doesn't sound good AT ALL. But think about it…imagine that creamy, delicious pumpkin pie taste we all love made even creamier? Sounds dreamy, right?! And the best part of all? It's super easy!
WHAT YOU'LL NEED:
– 1 can pumpkin pie filling or pumpkin puree
– approximately 2-3 cups of some sort of dairy or non-dairy substitute (see variations below)
– 1/2 cup plain yogurt (or any variation listed below)
– cinnamon or pumpkin pie spice (as much or as little as you desire)
– a blender
– some ice cubes (optional)
WHAT YOU'LL DO:
– Place all ingredients in blender and blend to desired consistency.
– Enjoy!
VARIATIONS: Use almond, non-fat, or soy milk instead of whole. Alternatively, use non-fat (or whole fat) yogurt for a richer consistency, or even vanilla pudding mix! Some people also add in a banana for extra sweetness. Others add in 1/2 tsp of vanilla extract. Experiment to get your ideal flavor!
TOPPINGS: Crumble some pecans on top, or better yet, graham crackers! Some of you might want to drop a marshmallow or two on top, or there's always a bit of whipped creme and cinnamon or chocolate sprinkles for an extra special treat.
Happy Fall!