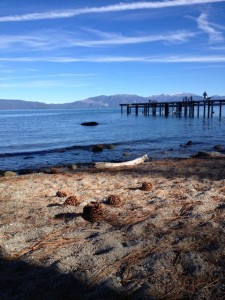 I recently returned from my first trip to Lake Tahoe, easily one of the most breathtaking places I've had the fortune of visiting.  My parents venture up there from Texas every few years, but this was my first time to receive an invitation and naturally, I jumped on it.  The week leading up to our long weekend, my mom flooded my inbox with photos from her previous trips and while the photos were amazing, they in no way prepared me for the drama, majesty and gasp-worthy spectacles that awaited.
Lake Tahoe is the second deepest lake in the country with a maximum depth of 1,644 feet.  Its circumference is 72 miles and straddles the California-Nevada border.  We stayed in North Lake Tahoe (on the California side), roughly 13 miles from Incline Village, which is right across the Nevada side.  Our little condo was right on the sand and offered a large balcony, giving us a panoramic view of the sapphire blue lake.
Because our trip fell over the last weekend of September, the water was a wee too chilly for our thin Texan skins to handle, but there were many people (mainly kids) splashing and playing in the crystal clear water.  However, during the peak summer months, the lake is all abuzz with swimmers, paddleboarders, snorkelers, SCUBA divers, water skiers and the like.
Lake Tahoe is far from just a watery summer playground, however, as the winter months bring heavy snowfall and the mountains come alive with skiers, snowboarders and various other forms of snow-lovers.  Because of its depth, the lake never freezes, so skiers and boarders get to swish down the mountain while gazing at a navy blue lake surrounded by pure white powder.
Even though there was only the beginning of snow on the highest mountains, the lake was already fairly chilly, so we spent our weekend hiking through Tahoe's beautiful and fragrant parks.  Between the aromatic pines and aspens, the lapping lake and the dramatically rugged Sierra-Nevada mountain range, Tahoe offers a sensory overload.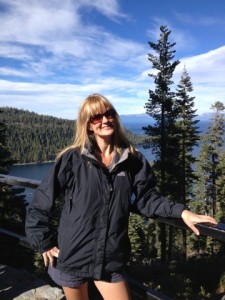 My parents and I also visited Donner Memorial State Park and Museum which is located on the very spot where the infamous Donner party was snowed in from October through March of 1846-47.  For anyone interested in history (especially that involving cannibalism, dissension and tragedy), this is a must-see.
So whether you're a water finatic, a snow bunny or just a general nature-lover, Lake Tahoe has something for everyone anytime of year.  And be sure to take a drive through the residential areas to admire the awe-striking waterfront mansions as well as the tucked away, mountainside ski chalets that look as if they were plucked right from the Swiss Alps.
photo credit: Lindy Kirk