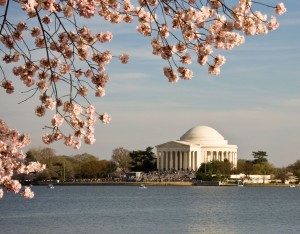 Ah, our Nation's Capitol. Home of The Washington Nationals, The Washington Capitals, and the foundations of our democracy! If you think Smithsonian museums, Congress, monuments, and Obama when D.C. comes to mind, you're in the majority. And, as a former local, us DC inhabitants like it that way. It keeps our best Pho food and food trucks, tucked away coffee shops, and outdoor exercise spots our little secrets.
There is much more to DC than the National Mall, the Library of Congress, and the politicians and politics, though. Take the red line or the yellow and green line a few stops into one of the many DC neighborhoods and you'll find some of the city's best qualities.
Ready for a day in DC that ignores the tourist stuff and shows you the real heart of the city? Pick the Red Line, the Yellow and Green Line, or try to squeeze in activities on both:
Using the Metro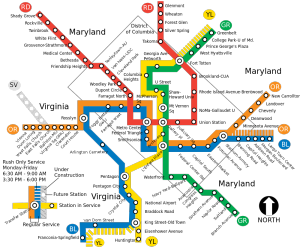 DC is easily navigated by public transportation, but one look at the outdated fare signs above the metro card kiosk and you may turn and run back up the steep escalator you just came down. Holy confusion, I know. Here's the easy way: Find the much more modern looking stands that are marked as SmartCard kiosks and pay $10 for the card. You will automatically have $5 on the card, you'll pay less than with a paper fare card , and you can load more on as you need. Don't worry too much about insufficient fare—there are machines inside the station that allow you to reload.
The best of the Green/Yellow Line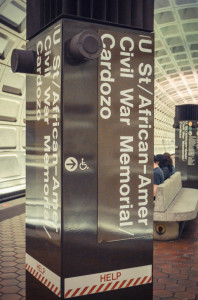 The Green and Yellow metro line runs through much of Northwest and Northeast DC. Here are the stops and destinations worth hopping off for:
Columbia Heights
You'll pop out on 14th and Irving Street NW and be a few blocks walk from one of the hippest neighborhoods in DC: 11th Street NW. Within the last two years, 11th Street has seen an influx of new restaurants and bars, many of them earning national attention for their cocktails and fares.
What to check out on 11th Street:
Room 11
The quintessential 11th Street stop, Room 11 offers award-winning cocktails and food in an intimate setting with homemade desserts like goat cheese cheesecake and a small, but ever-changing menu.
El Chucho
Smoked beer-can chicken made with Tecate beer, more margarita options than seems possible, a rooftop deck, and a super-friendly staff. If you're in the mood for Mexican, you won't find much better in the city.
Meridian Pint
Incredible food and unparalleled beer selection. New draft and bottled beers are on constant rotations, but this is a great place to try local brews like DC Brau in good company.
The Coupe
One of DC's only 24-hour dining options, The Coupe is good enough for the President to visit and locals to frequent. Their cafe, bar, all-around gathering place has a food, libations, and coffee menu that is constantly changing. It's worth coming back to for breakfast, lunch, and dinner to sample a little bit of it all.
Meridian Hill Park
When you're ready to work off some of those tacos and beers, take a stroll to Meridian Hill Park. The urban park has 12 acres of green space, statues of Joan of Arc, everyone's favorite poet, Dante, and an 82-foot tall Buchanan, plus a cascading waterfall and a formal garden. Head here for a break from the city scramble and, if you make it there on a Sunday, be sure to stay for the drum circle from 3p.m. to 9p.m. in the upper park. Many locals come to the park to exercise on the stairs, practice yoga in the shade, or to read and sunbath on the hills.
U Street Cardozo
It's no joke that a new restaurant, shop, café, or bar goes up on U Street every few weeks. The U Street Corridor is also home to some of DC's established favorites like Ben's Chili Bowl, Solly's Tavern, the 9:30 Club, and Nelly's Sports Bar. A thriving nightlife and an inviting daytime stroll, U Street is a favorite with DC locals.
Check out:
Ted's Bulletin
Homemade poptarts and old films playing on a big screen. Need I say more? Okay, some of the best breakfast and treat options in the city and adorable décor.
Le Diplomate
A more recent addition to the area, Le Diplomate is a French bistro and one of the best dining experiences in the area. It's usually full to the brim with patrons, but the wait is always worth it. Try the duck confit or the mushroom tart!
Junction
A vast array of truly unique vintage clothing and accessories and one of the friendliest business owners you'll ever meet.
American Ice Co.
Located near the iconic 9:30 Club, American Ice Co.  looks like it might be a warehouse, not one of DC's trendiest bars. They serve beers, whiskey, and meats from local purveyors. Sidle up to the bar of snag one of the wooden booths for an evening of drinks and delicious food.
The Coffee Bar
This is one secret I have a hard time giving away.  A fun and inviting atmosphere with some of the best coffee I've ever tasted this side of Seattle.
 The best of the Red Line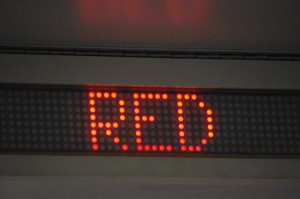 Arguably the cleanest and most efficient line on the DC metro, the red line takes you through much of Northwest DC.
Dupont Circle
Just outside of the heart of what visitors typically consider Downtown, DC, Dupont Circle is a busy and bustling neighborhood not so far from the White House and the Capitol Building. A great area to take in the nearby embassies, shops, and people.
Pop into:
Kramerbooks
The countries first ever combo café, bar, book store, and restaurant. Have a beer, grab a book, and finish it off with dinner, dessert, and coffee. Arguably one of the best independent bookstores in the country.
Larry's Homemade Ice Cream
You'll have to look down to find Larry's, situated a few steps down under another building in the heart of Dupont Circle. Larry is supposedly the equivalent of Seinfeld's Soup Nazi, but he's always been incredible nice to me. His wife, not so much, but it's all part of the experience. The attitude is worth getting to taste their incredible ice cream. Try the salted caramel!
The Dupont Traffic Circle
Up for some people watching? This is the place to do it. With a fountain situated in the middle, park benches all around,  and permanent stone chessboards, you can sit and enjoy yourself for hours.
Woodley Park / Adams Morgan / National Zoo
Yes, this metro stop has three names because so much is nearby. One of the quieter city neighborhoods,Woodley Park and Adams Morgan are home to some of Northwest DC's favorite destinations.
Wander you way to:
The National Zoo
A few blocks walk out of the metro and you arrive at the free, open-entrance National Zoo. Yep, free. Check out the red pandas (and the black and white ones, too!), the sloth bear, and the fishing cat. It would take you at least a full day to see all that the park has to offer, so it's nice to have some freedom with when and where you come and go.
Froyo
Just across the street from the zoo (with several other locations in the city), this self-serve yogurt place has more flavors and toppings than you've seen anywhere else, promise. You can layer on the fudge after you pay and bottles of water run for a whopping twenty-nine cents.
Madam's Organ
A landmark in DC nightlife, Madam's Organ is just across the Duke Ellington bridge (peek down to see some of Rock Creek Park!) in Adams Morgan.  Nightly live music and a welcoming crowd.
Jumbo Slice
Pizza slices the size of whole pizzas. You won't believe it unless you see it, and you should. Pro tip: fold the pizza in half and you'll be able to eat it without making a total mess.
You might be thinking a full week in DC would serve you better than 24-hours, and you would be right. DC is quickly, and rather quietly, becoming one of the best cities for food, entertainment, and libations. It's well worth a visit!