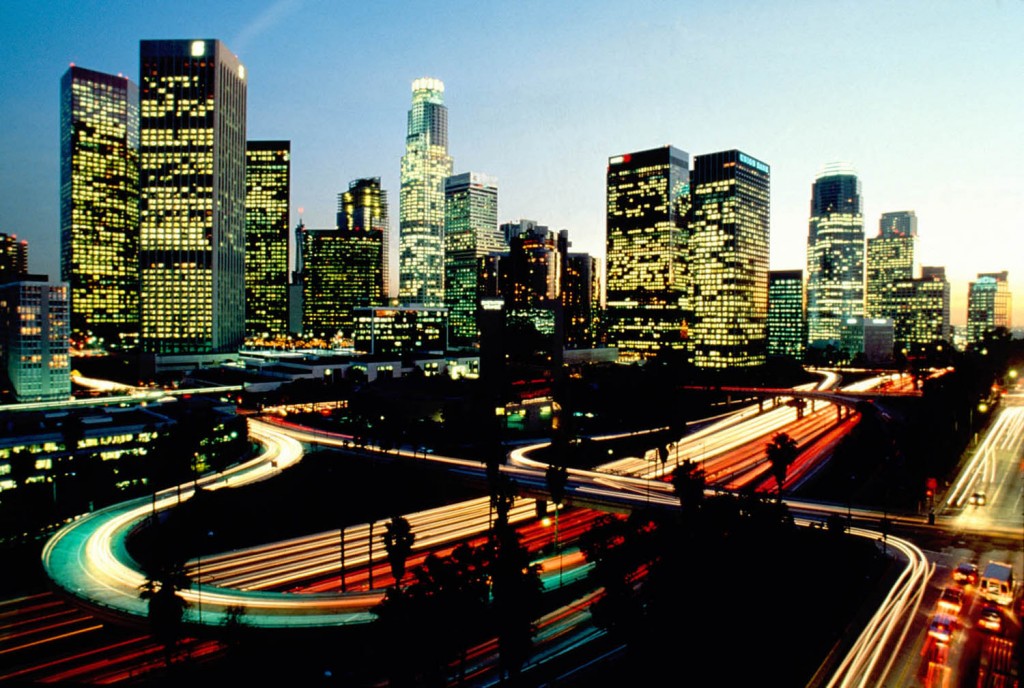 Downtown LA is on the rise, with various hotels, restaurants and bars popping up all over the place. In addition to the bevy of businesses that are springing up as part of the revitalization movement, there has also been an influx of luxury residential high-rises around town, attracting more and more people to make the move to the city where they can experience the live-work dichotomy in a bustling and flourishing metropolis.
717
Located on the corner of Olympic and Figueroa, this is as close to the action as you can get. A mere stone's throw away from LA Live and the Staples Center, you'll never have to worry about parking again when you can simply cross the street and walk to your next Lakers or LA Kings game followed by drinks at the Yardhouse or dinner at Fleming's. The building offers an endless array of amenities, including 24-hour valet parking for all your guests, a rooftop deck for tanning (along with spin bikes), an 8th-floor resident lounge with a heated pool and music, as well as wine lockers. All units offer breathtaking views of the Hollywood Hills and downtown and feature top-of-the-line appliances and amenities, which include walk-in closets and private washer and dryer units for each apartment. You might run into rapper Soulja Boy, who happens to live here as well, along with several other famous basketball players, athletes and musicians.
Apex
Right next door to 717, this classic contemporary residence looks like a glossy business tower on the outside. The spacious floor plans feature floor-to-ceiling windows, a coffee bar lounge, a private movie theater that can be reserved for guests and private parties, along with a sun deck, pool and dog-run. Other resident services include on-site dry cleaning, pet walking and grooming services, as well as auto-detailing and maintenance arrangement. There are also plenty of in-building events, mixers and parties, just in case you're feeling extra social.
Watermarke Tower
A 35-story luxury high-rise located in the downtown South Park area, you can easily walk to Ralphs for your grocery needs and the rest of the entertainment and bustle that makes up Downtown LA for everything else. With poolside cabanas and resident yoga classes, it feels more like an upscale hotel that you get to call home. In addition to a state-of-the-art fitness center, billiards room and club house, don't forget to check out the wine cellar and tasting room – perfect for entertaining and relaxing after a long workday.
Ritz Carlton Residences
Always fantasized about living in a hotel? Well now you can, and right in the heart of LA Live. Located above the Ritz-Carlton Hotel, the Residences start on the 27th floor and go up all the way up to the 52nd floor, where residents can enjoy uninterrupted views of the city, the legendary Ritz-Carlton Services, and have LA Live as their backyard. Literally.
Luma
These condo lofts are one of the newest residences downtown, for those that want modern architecture with an urban edge. The open space "soft lofts" are bright and open with brand-new appliances and individually-unique floor plans. Features include stainless-steel kitchen finishes, hardwood floors, Juliet balconies and designer finishes, as well as a lap pool, outdoor fireplace and elegant lobby entrance on Hope Street with on-site attendants.
Evo
This impeccably-modern residence features 24 stories of unsurpassed elegance and style. Hang out with friends on the sixth-floor sun deck and lounge in the massive pool that overlooks the skyline, or get in an inspiring workout on the 24th floor fitness studio that showcases the city views through a glass wall. The concierge will tend to your every need, whether you're looking for restaurant reservations, in-home spa services, housekeeping or pet sitting.
---
By: Kamala Kirk