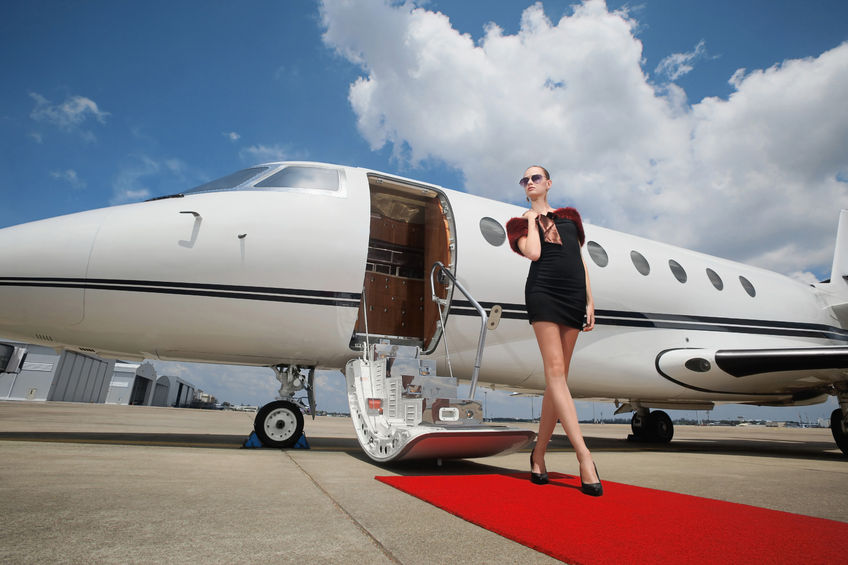 For the people who already own timeshares all over the place, from Hawaii to Palm Springs, they may find themselves itching for something new and exciting. Private jets are at the top of every jetsetter's wish list, but not just anyone can afford to own one right off the bat. Introducing NetJets – it's essentially a timeshare for private aircraft that costs members a fraction of the price of owning an entire plane, perfect for those who want the status and prestige of owning a jet without having to pay the hefty price.
Some of the main benefits of being a co-owner with NetJets include the ability to charter your plane with only four-to-six-hours' notice, being able to fly on your own personal schedule, and choosing from more airports than if you were flying via a standard commercial carrier. Share sizes start at around 50 annual flight hours and can be increased in 25-hour increments. The typical commitment range for a share ranges from 24 to 46 months. An added bonus of flying with NetJets is the decreased amount of time spent traveling. Standard inconveniences like checking and claiming baggage, stopovers and estimated arrival time are practically non-existent. NetJets' recommended arrival time for international trips is only 30 minutes, which is a lot less than the recommended 90 minutes FAA-requested time when flying commercial.
NetJets manages over 300,000 annual flights to over 170 countries, making it possible for you to go just about anywhere in the world you wish, whether it's for business, pleasure, or a little bit of both. Their aircraft can accommodate anywhere from 7 to 14 passengers and their flight range is capable of traveling up to 7,700 miles. Aircraft types include the midsize Hawker 900XP/800 XP (ideal for business use), the speedy Cessna Citation X (the world's fastest midsize business jet), and the Bombardier Global 5000 (long-range, high-performance jet that connects cities quickly and efficiently).
There is a one-time acquisition fee that is determined by the aircraft type and how many people you are sharing with, along with a monthly management fee (this covers pilot salaries, liability insurance, hangar use, etc.), occupied hourly fees (you are billed as you fly and only for the hours that you occupy the jet), along with the standard costs such as fuel and any international fees. After doing some research, here's what the approximate figures came to (although it can vary according to aircraft and other specifics):
One-time acquisition fee (the smallest you can purchase is a 1/16 interest, which gives 50 hours of flight time): $550,000
*If you want a 1/2 interest (400 hours of flight time), the cost is $4.4 million.
Monthly management fee for 50-hour share: $9,600
NetJets also offers finance/leasing options, like a 6 percent fixed-rate financing on balances upwards of $100,000 (and after you put down 20 percent upon signing).
If you're not looking to co-own a jet but are still interested in being part of the private jet club, NetJets offers several other options. With NetJets Lease, you can pay for lease time on a specific aircraft and still enjoy all the same advantages. According to the website: "A NetJets Lease is ideal for anyone who flies 50 or more hours per year and wants the financial flexibility afforded by aircraft leasing versus aircraft ownership."
The other option is to sign up for the Marquis Jet Card, which is basically a prepaid card that gives you 25 hours of flight time on the aircraft of your choice. You get on-demand access to a jet that provides direct flights to 3,000 airports nationwide. A single year starts at $119,900 for a Hawker 400XP jet. After you use up your hours, you can either renew your card or simply walk away.
On a final note, NetJets holds exclusive events for its members. Every year they host a Super Bowl event the day before the game, hosted by sportscaster Chris Berman , which include appearances by various football legends and public figures. Every year, NetJets also arranges a private musical performance for its members, and previous performers have included Katy Perry and Bono. They also sponsor Art Basel Miami Beach and have their own Hospitality House at the Masters Golf Tournament, in addition to an annual poker tournament in Las Vegas, hosted by investor Warren Buffett.
While I was previously convinced that I didn't need the services of a private jet, this has made me reconsider. It's certainly something to strive for… after I make my first major book deal.
---
By: Kamala Kirk