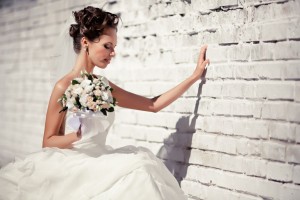 Bridal gowns come in all sizes, shapes and forms. From the picture perfect princess dress with a poufy skirt to a more sleek and elegant body-hugging number, there are many different designers who specialize in bridal couture. They each have their own independent and unique style that makes them stand apart from the others, but they are all acclaimed and internationally recognized.
The hard part: which designer should you go with? Do you just want to be able to say that you have a five-figure Vera Wang dress or would you rather have a designer who truly brings out your best on one of the biggest days of your life? Here's a list of some of the most esteemed bridal designers on the market, with a list of everything from their celebrity clients to their distinctive styles.
Carolina Herrera
Quote-worthy: "I have a responsibility to the woman of today – to make her feel confident, modern, and above all else, beautiful."
Known for: Her traditional designs are extremely elegant but without all the fuss. Hollywood glamour meets chic subtlety. Her dresses effortlessly hang, perfectly complementing the body without compromising the shape.
Claim to fame: Herrera was first introduced to the fashion design world through her grandmother, who took her to shows and taught her how to wear Balenciaga and Christian Dior. In addition to dressing many First Ladies such as Jacqueline Kennedy and Michelle Obama, Herrera is also the recipient of numerous awards, including the New York Award of Excellence and a Lifetime Achievement Award from the Council of Fashion Designers of America.
Ines di Santo
Quote-worthy: As I say all the time, the dress is not a dress, it is much more than that – it is a personality."
Known for: Being one of the leading bridal couture designers with gowns that emphasize the feminine structure and are custom fitted precisely according to fit, originality and construction. She incorporates her signature hand-ruching and tailoring techniques to create layered skirts and romantic detailing with a polished bodice.
Claim to fame: The Italian designer personally oversees the production of every single gown that comes out of her Toronto-based atelier. Her dresses are a favorite among the Hollywood crowd and have been seen on everyone from Giuliana Rancic to Mario Lopez's bride Courtney Mazza, who wore a cathedral length veil and a mermaid-style lace gown by the designer at her own nuptials.
Jenny Packham
Quote-worthy: "I don't feel the need to be quirky or avant garde. I'm just showing beautiful, glamorous clothing in a way that I hope will show how it could be worn."
Known for: Beautiful gowns that have a historic sense of glamour to them. She often features cap sleeves, lace and detailed beading on her designs.
Claim to fame: The UK fashion designer started out creating bridal gowns and evening wear, eventually adding a bridal accessories and lingerie line to her brand. Many of her creations have been featured on Samantha's character in "Sex and the City," and her celebrity clients include Angelina Jolie, Reese Witherspoon, Kate Winslet and the Duchess of Cambridge. One of her most popular designs was an asymmetrical gown that featured Swarovski crystals.
Marchesa
Quote-worthy: "It's so special, seeing a woman put on a dress and witnessing that emotional connection. You feel the empowerment of that woman feeling beautiful."
Known for: High-end women's wear and decadent dresses, often featuring taffeta, ruffles and lots of texture.
Claim to fame: The New York-based brand is sold in upscale department stores including Bergdorf Goodman, Saks and Neiman Marcus and is spearheaded by designer Georgina Chapman. Their length roster of celebrity clients includes Penelope Cruz, Jennifer Lopez, Halle Berry, Sandra Bullock and Blake Lively.
Monique Lhuillier
Quote-worthy: "I imagined myself being locked up in this gorgeous apartment in Paris looking out the windows and fantasizing what my wedding would be."
Known for: Frilly bridal wear with extravagant lace detailing.  Her pieces are feminine and elegant.
Claim to fame: In addition to bridal couture, this Filipina designer's garments are all over the red carpet. Celebrities that have been spotted in her fashions include Eva Longoria, Drew Barrymore, Jennifer Love Hewitt, Lucy Liu and Zooey Deschanel.
Reem Acra
Quote-worthy: "The customer is my friend, so if I like it on me I would want to give it to customer."
Known for: Her signature beadwork.
Claim to fame: The Lebanese designer launched her bridal collection in 1997 and then followed up with a ready-to-wear line in 2003. Her fashions have been worn by royalty and Hollywood celebs, including Beyonce and Catherina Zeta-Jones. Her clothing is carried by exclusive retailers including Harvey Nicols and Saks Fifth Avenue.
Vera Wang
Quote-worthy: "When I design a wedding dress with a bustle, it has to be one the bride can dance in."
Known for: The queen bee of bridal wear, Vera Wang is perhaps the most popular of them all. She is known for her extensive collection of wedding gowns and couture bridesmaid dresses, often featuring the popular tulle skirt form.
Claim to fame: The former figure skater started out as Vogue's Senior Fashion Editor before becoming Ralph Lauren's Design Director. She has designed wedding gowns for everyone from Alicia Keys to Chelsea Clinton to Mariah Carey, as well as the First Lady of the United States. She even has a line of wedding dresses that come exclusively in black.