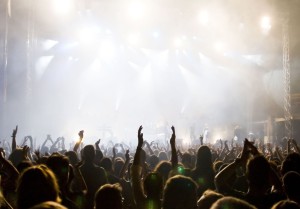 It's almost that time of the year again. Music festival time. Stock up on sunscreen and a good pair of earplugs and get ready to enjoy yourself immensely.
Burning Man
Who: Artists, hippies, eclectics and eccentrics
Where: Black Rock Desert of Nevada
When: August 25-September 1
What: For those who love a good WTF moment, this is perfect place to go for a real live Dr. Seuss type of experience. The one non-music festival on the list, Burning Man is an annual art event and 'temporary' community built on radical self-expression and self-reliance in the middle of the desert with a bunch of like-minded individuals.  From the weird outfits to the lack of clothing to the unique group-assembled art installations along with a "leave no trace" ethic, brace yourself for the weirdest week of your life.
Coachella
Who: Bohemian trendsetters, fashion bloggers, hipsters, celebs
Where: Empire Polo Field in Indio, CA
When: Weekend 1 (April 11-13), Weekend 2 (April 18-20)
What: Founded by Paul Tollett, this three-day music and arts festival has turned into the premier destination in April for fashionable groups of friends and stylish couples. Stroll across the lush polo field and take in a variety of music acts (previous performances included Moby, Red Hot Chili Peppers, Paul Oakenfold, Phoenix and Benny Benassi to name a few) at the main Coachella Stage, Outdoor Theatre and in the three different tents: Gobi, Mojave and Sahara.
Venue gates open at 11 a.m. and close around 12:30 a.m., so you can wander around day and night, listening and dancing to all the different acts performing throughout the day. Go for a Ferris wheel ride at sunset and enjoy views of the entire Coachella Valley, framed by lit-up palm trees and neon lights. And if you still have the stamina, partake in one of the many happening after parties that are going on at the various resorts, hotels and houses. This is definitely a fashion-forward festival so be sure to put together your best ensemble because you just might end up on one of the countless fashion blogs.
EDC
Who: EDM music lovers, ravers, the college crowd, bros
Where: Las Vegas Motor Speedway in Nevada
When: June 20-22
What: Bring everything you've got to this high-energy event because you're gonna need it. Men dressed as Disney princesses, furry raver boots, women in space helmets donning bikinis, Dancetronauts and more, nothing is off-limits during this special three-day weekend of madness and chaos that ensues. But if you're going to dance until the Las Vegas sun comes up, why not do it with an insane EDM lineup that includes the likes of Calvin Harris, Afrojack and Eric Prydz, to name a few? Be prepared for a long recovery period after EDC, but the experiences you had will make it so worthwhile.
Stagecoach
Who: Country music fans, cowboy/cowgirl types
Where: Empire Polo Field in Indio, CA
When: April 25-27
What: Known as Coachella's cousin but with a completely different vibe, Stagecoach features  bluegrass, folk, mainstream and alternative country artists, ranging from world famous acts to the relatively unknown. Throw on your favorite pair of boots and a hat before spending your afternoons getting down to the likes of Jason Aldean, Luke Bryan and Carrie Underwood, among others. This festival is also known for its keen cuisine, so be sure to sink your teeth into the showcase of food and beverages such as Pink's Hot Dogs and Waffleman Ice Cream Sandwiches. If you really want to get the full experience, do the camping/RV thing, otherwise book a room at one of the nearby resorts/hotels for a more relaxing and luxurious experience.
Ultra
Who: Sultry jetsetters, fashionistas, Europeans, University of Miami students
Where: South Beach in Miami, FL
When: March 28-30
What: If you combine one of the sexiest cities in the country with some of the world's best DJs, Ultra is what you get. With an impressive roster of electronic and house music by big names such as Avicii, Diplo, Kaskade and Tiesto serving as your musical backdrop, spend your days dancing on the beaches with a bevy of bronzed beauties in bikinis and bros in board shorts. Can't make it to Miami? Ultra also hosts events in Argentina, Brazil, Chile, Croatia, Ibiza and South Korea – a true globetrotting adventure.