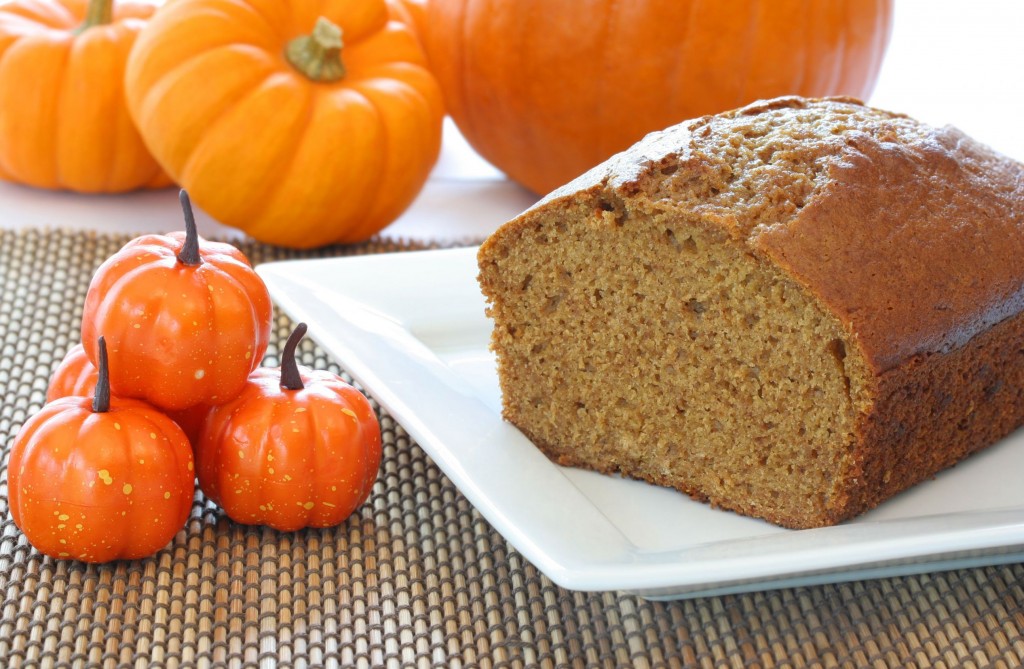 One of my favorite things about fall is pumpkin bread. It smells and tastes exactly like the season and gets me in the mood for shorter days, sweaters and the holidays. However, it isn't always the healthiest option. So I took my favorite pumpkin spice bread recipe and turned it inside-out, making it healthier but no less delicious. Making it healthy also makes me feel good about it being the kids' favorite fall breakfast before school. The recipe makes two loaves. You can freeze one so you're always at the ready. The only thing I don't substitute is the flour — although whole wheat is a healthier option, I find that it changes the consistency far too much, but if you're willing to sacrifice that, do an equal combo of white and whole wheat flour.
1 3/4 cup sugar
1/2 cup apple sauce
1/2 cup canola oil
3/4 cup egg substitute (such as Egg Beaters)
16-ounce can organic pumpkin puree
2 tsp. vanilla extract
3 cups organic flour
1 tsp. ground cinnamon
1 tsp. ground cloves
1 tsp. ground nutmeg
1 tsp. baking soda
1/2 tsp. salt
1/2 tsp. baking powder
1/2 cup chopped walnuts (optional)
1/2 cup dark chocolate chips (optional)
Preheat oven to 350°F.
Spray two loaf pans with cooking spray.
Sift flour, spices, baking soda, powder and salt in one bowl to combine.
Beat sugar, apple sauce and oil in a large bowl to blend. Add in egg substitute, pumpkin and vanilla to combine.
In three additions, mix in flour mixture. Once all combined, mix in nuts and chocolate chips.
Divide the batter between the two loaf pans and bake for 65 minutes, or until toothpick inserted in center comes out clean. Transfer to racks and allow to cool before turning loaves out.
And don't forget to enjoy with coffee, or hot chocolate for the kiddos!