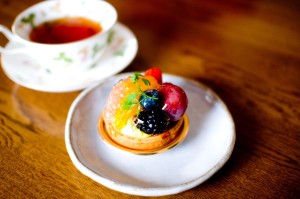 When we were in college, a restaurant popped up in town that made mini desserts in shot glasses. We've always been a fan of mini-sized food items, and thought it was insanely cool that they'd come up with the idea. You could order one by itself, or a bunch of them together, giving you a sample taste of all the different dessert items the restaurant offered. It was brilliant, and we still love mini desserts to this day.
The holidays are a perfect time to bust out some home made bite sized dessert items because it allows your guests to have one of each without feeling totally guilty or adding pounds to their waist line.
Here are some small dessert items we think you should make this holiday season.
1) Mini Fruit Tarts – My mom makes these every year and they are a HUGE hit. They are compact, delicious and incredibly beautiful to look at.
2) Coffee Mousse & Salted Caramel – These are just about as cute as they come, and if you don't want to invest in the small jars, you could always just put them in clear cocktail cups, which would look just as adorable.
3) Mini Pumpkin Cheesecakes – You can't have a holiday party without a little pumpkin, but instead of going the pie route, we decided to share some mini pumpkin cheesecakes instead!
4) Baklava Cups – This is another dessert my mom makes every year, but she makes round logs of baklava instead of cups. We thought this spin on the traditional dessert was too cool not to share.
5) Mini Cannolis – Cannolis are one of our favorite dessert items, so our list would be incomplete without them. Add some mini chocolate chips to this recipe, and we're sold!
Will you consider mini desserts this year? If you do, share the recipes you plan to use in the comments below!