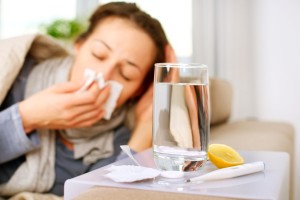 It's not fun for kids when mom is sick. This past week I was stopped in my tracks by a stomach illness and then right after that I caught a nasty cold.
My kids and I had planned to bake cookies, put up our Christmas decorations, visit friends and many other things during their Thanksgiving break from school. Even though I wasn't feeling normal I still pushed that all aside (as any mother does) and tried to make the most of our time together.
I think my kids have finally realized that mom does occasionally get sick, just like they do. They all made such an effort to help me out. My oldest son was such a sweetheart and took over in the kitchen for me and made dinner for our whole family. Then he and his older sister formed a team and cleaned up the kitchen and finished all of the laundry for me.
After they helped me out with all of that they decided to play with the twins so I could relax a little bit. I thanked them so much for their thoughtfulness and let them know how much I appreciated them acknowledging the fact I wasn't feeling well and they were just happy to help me out so much.
We did accomplish everything we wanted to over their break, it just took a little team effort from the older kids. It's nice to know that they appreciate me, and that they know how to step up and help out in any way they can.