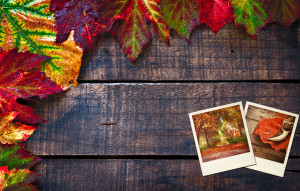 Thanksgiving is one of our favorite holidays of the year. In fact, it may take the number one spot during the season. We obviously love all of the delicious treats that are made, but we also love the meaning behind it: being thankful. Can't beat that now, can ya?
Every year, we fly from California back to our Florida to spend as much time with the fam as we can, and part of the fun this year has been brainstorming some table decor with my mom. She tends to steer clear of the traditional pine cone and maple leave centerpieces, and opts instead for more modern takes on the holiday.
Here are some of the items we thought of incorporating this year:
1) Metallics – We thought it could be cool to bring in some metallics. Perhaps some gold silverware, or a gold sequin table runner? The addition of anything sparkly is always a good thing.
2) Mix in a random color – Instead of just sticking to earth tones, or the often used orange and brown pallette, bring in a bold color. One year, she used teal and it looked awesome. How about this year mixing in a deep purple, or a bright magenta. Table napkins could work to add in a splash that people aren't expecting.
3) Unique Flowers – We've seen a lot of roses and carnations used for Thanksgiving flower centerpieces, so why not go ultra modern with bamboo and birds of paradise? Place it in a low standing bamboo container and watch as your guests ooh and ahh over your creativity!
4) Black and White – Black and white palettes are a huge trend this season, so maybe it's time to go for a trendy table setting. Stick to only black and white. How about a checkered table runner? Painted white pumpkins as center pieces? You can definitely find black and white plates to mix together too.
What are some unique ways you like to make your Thanksgiving table stand out?