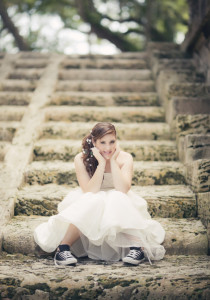 As fall approaches, so does Homecoming season. Ah, yes the high school dances have begun in our house. I cannot believe my child is already this old. I am not ready for this.
I still remember those days like they were yesterday. I remember asking my mom to take me to the tanning salon– in my time we had to pay $1 every visit. We all laugh about this because that's not how it is now! Everyone is worried about skin care and wrinkles so we try all kinds of alternatives to fake a tan. When I was a teen my friends and I had fake tans, fake nails, horrible up do's, and hideous dresses smothered in velvet and sequins that we just had to have!
I have to let my daughter grow up and I am looking forward to spending one on one time with her when we go shopping for her dress, shoes and jewels, also taking her to get her hair done. We will have fun being girly and doing these things together.
My favorite part is wondering which boy will be escorting her to these events (this all said in sarcasm of course). Now I know exactly how my parents felt when I released the information to them as to who would be taking me to the dances I went to. I am sure they thought how I am thinking now, "really, this is the kid who my daughter wants to go to the dance with?!" Unfortunately we have to let them go and do these things, unless of course the kid is known to be an awful person. It's all about learning and hopefully she will go to many dances not with this same boy. In the meantime I will enjoy these new experiences with her and with sadness accompanied watching my baby turn into the women she's supposed to be. Luckily, I have been blessed with a very smart, confident girl who won't let anyone subject her to situations she knows are not acceptable.