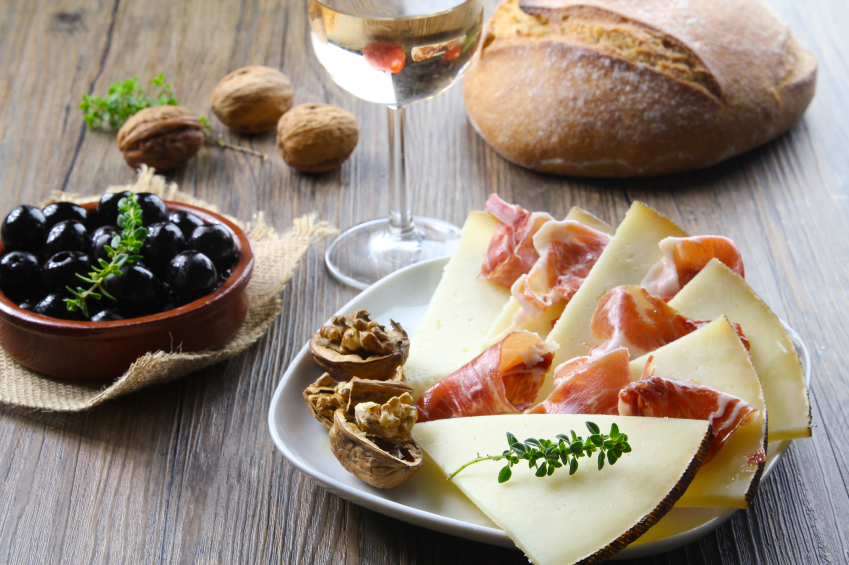 Who doesn't love trying small bites of everything? Hosting a Spanish tapas party is a fun way to allow guests to try various types of exotic dishes, and get the conversation flowing. Plus, who doesn't love a nice glass of sangria to wash it all down with?
What You'll Need:
Sangria – This delicious red wine with fruit concoction is a must at any Spanish-themed party. Here's a classic recipe to get you started.
Various tapas recipes – This is where you get to be creative. Been dying to try that bacon-wrapped dates recipe? Do it! Here are some more classic Spanish tapas dishes to get you started.
And don't forget the cured meats (serrano ham would be perfect if you can find it) and manchego cheese with bread! Those are always a hit.
Small plates/utensils/toothpicks/napkins – Many of the recipes above can be finger foods, but just in case, make sure to have all of the proper accouterments. And finger foods require lots of cocktail napkins!
Signs – Make homemade signs for each of the tapas so guests know exactly what they're eating.
Decor – Think warm colors (i.e. red, orange, yellow), terracotta or wooden dishes and serving ware, and a large buffet table.  Also consider using tinted glasses if you have those available to you. Sangria glasses in a warm amber shade would be particularly lovely.
Dessert – A classic (and delicious) Spanish dessert is Churros with Chocolate (seriously, how can anyone every NOT like this?!). Try serving it fondue style with a pot of melted chocolate, or alternatively, depending on the number of guests, offer everyone a personal glass cup with the melted chocolate inside for them to dip their churros in.
Above all, have fun!