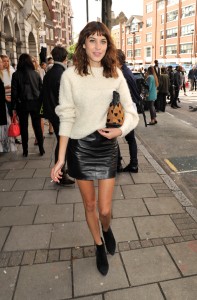 Let's face it, there really isn't anything more chic than a gorgeous all black outfit. Seriously. You can never go wrong in it, it makes everyone look fabulous, and something about it just screams power! But then, out of nowhere, you add in a touch of white, and the next level has been achieved.
We have been obsessing over all of the black and white options for this fall and winter season, adding a few key pieces to our wardrobe and being incredibly happy we did.
Here are some of our favorite picks for this year.
1)
Poncho
– We purchased a poncho similar to this one as an early find over the summer and we can't stop wearing it. We pair it with a black long sleeved shirt, skinny jeans, and our black leather boots for an easy to wear ensemble.
2)
Dress
– We love that the stripes on this don't go all the way down the entire dress. You also can't go wrong with a knit material, which is super comfy and snuggly during the cooler weather. Pair it with a nice long trench and some stockings if you are in colder weather.
3)
Bag
– This Michael Kors Tippi Zip Clutch is the perfect addition to your black and white wardrobe. It's simple, yet elegant, and the wrist strap adds functionality when needed.
4)
Shoes
– For a more casual look grab a pair of black and white high tops. Yes, we are a huge Michael Kors fan, so don't hate us for adding him in twice. We can't help ourselves.
5)
Scarf
– One of the best parts of the fall and winter season is getting to accessorize with a great scarf. For us, the infinity is the only way to go, and this one is pretty much perfect.
Will you be partaking in this trend? What are some of your favorite pieces? Let us know in the comments.
photo credit: Wenn.com