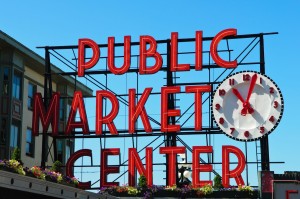 Situated on a narrow isthmus between Puget Sound, an inlet of the Pacific Ocean, and Lake Washington, the Emerald City is truly a gem. Only 100 miles from the Canada-U.S. border, Seattle is the northernmost city of at least 500,000 people in the United States.  While the Pacific Northwest, in general, is known for its breathtaking beauty and dramatic landscapes, Seattle, in particular, is an absolute feast for the senses.  Whether you're a foodie, an avid outdoorsman, a water-lover or a city lovin' culture vulture, Seattle has something for everyone.
Though I took my first trip to Seattle in January—smack dab in the middle of the region's rainiest season—I could hardly keep my mouth from dropping and eyes from bulging as I took in the awe-inspiring scenery.  No matter which direction you look, there is a spectacle to behold.  Seattle was built on seven hills, like Rome– Capitol Hill, First Hill, West Seattle, Beacon Hill, Magnolia, Denny Hill (though Denny was taken down in the early 20th century) and Queen Anne—so expect even your most leisurely stroll through the city to be a slight workout for your tuchus.  But as you huff and puff through Seattle's pedestrian-friendly streets, keep your head up and eyes on the surrounding areas.  To the west of Puget Sound you can take in the Kitsap Peninsula and Olympic Mountains, located on the Olympic Peninsula. To the east of Lake Washington you'll find more contrasting beauty as serene water meets the rugged hills of the Cascade Range and Lake Sammamish.  The Emerald City earned its moniker in 1981 due to the lush evergreen forests that surround the area, so if green space is what you're after on your next vacation, this is the destination for you.
Aside from its obvious natural beauty and never-ending outdoor activity options, Seattle is also known for its food, music scene, museums and art galleries and, of course, its coffee culture.  Here are a few sites and attractions I highly recommend when planning a trip to Seattle.
Pike Place Market
Open 19.5 hours a day, 362 days a year, Pike Place Market is Seattle's original farmer's market, but today, it is oh, so much more.  Whether you're looking for flying fish, seafood so fresh it's still glistening with saltwater, mouth-watering piroshkies, produce still sprinkled with morning dew or if you're merely wanting to lose yourself amidst a bustling, buzzing maze of merchants selling items you never realized you needed, Pike Place Market will leave your taste buds tantalized, your nose twitching, your ears ringing and your eyes bugging.  I highly suggest you visit their website to get your bearings before you lose yourself (and 3 days) in this sensory labyrinth.
Bainbridge Ferry
In order to capture the full panoramic beauty of this stunning city, I suggest you take the Bainbridge Ferry.  This lovely boat ride offers amazing city views and will allow you to fully take in the surrounding mountains contrasted by the numerous bodies of water.  Plus, once you disembark on the other side, you're a quick and scenic 15-minute walk from Bainbridge—a charming little village brimming with delicious dining options, quaint stores and, of course, beautiful views.
Uwajimaya Village
I'm not even sure how to put this place into words.  Imagine a grocery store that spans a city block—a large city block.  Now fill that grocery store with anything and everything "Asian" that you can think of.  That, in a nutshell, is Uwajimaya Village—plus add an optician, a cell phone store, a salon, bank, bookstore and a few other shops.  For you tea drinkers out there, take a wander up Uwajimaya's entire aisle of tea choices.  In the mood for rice?  Take a gander at their rice selection—bag upon bag of various types of rice–and in sizes similar to those of farm supply fertilizer bags?  Perhaps your mouth is set on seafood tonight—no problem.  Uwajimaya boasts one of the largest and freshest selections of both meat and seafood; however, when they say "fresh," they mean it.  Tanks line the seafood area, filled with nearly every edible species of crab, lobster, clam and geoduck you can imagine.  Pronounced gooey duck, these bizarre critters are a Pacific Northwest…specialty?  For those of you who are avid "Dirty Jobs" viewers, check out the episode on harvesting these suckers.  Anything you could possibly want to broaden your culinary horizons or prepare that perfect, authentic Asian meal, you will find it here.
I could write many, many more pages on the bounty awaiting any visitor to Seattle, but so much of the fun of traveling is blazing your own trail, discovering that hole-in-the-wall café or Dim Sum joint that makes your trip that much more special and personalized.  So I will leave you to wander and peruse this culturally diverse, naturally stunning, socially progressive, sensory-overloading gem of a city.