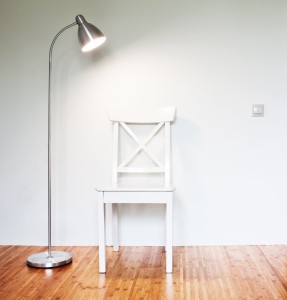 Recently, we moved from a one bedroom apartment into a two bedroom bungalow in our neighborhood. Our previous home, while still built in the 70s, was renovated and had a more updated look than our current 1920s slice of heaven. This new spot calls for a more funky vibe, and allows a bit more freedom in the type of furniture and decor we use while decorating.
We've had a ton of fun browsing the web for some great additions, and we wanted to share some of our findings with you.
1) Geodesic Table Lamp – We're pretty much obsessed with this table lamp. It would make a great addition to our new bedroom, or maybe just a nice piece on  a side table in the living room. Either way, we kind of need to own it immediately.
2) Night Owl Welcome Mat – This would be adorable on the little stoop outside our little cottage. We love all things owl, and we really do need something to wipe our feet on before entering the new place. This would also be great for an apartment!
3) Sleeper Sofa – Since we have a spare bedroom now, a sleeper sofa is a must. We want this space to be used as an office, but also accessible for friends to stay the night. The bright green color of this couch makes it a bit out of the ordinary.
4) Marbleized Chair – The fabric on this chair is AMAZING, and we think it would look gorgeous in the living room. Match it with an all grey couch, and you're set to go!
5) Metal Side Table – This is a super unique piece that is usable, but also leaves a bit of space if you have a smaller room.
Adding your own personality to your home is really the most important part. Whether you go funky, or traditional, have fun with it, and make it your own!