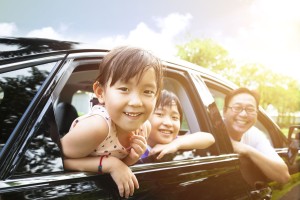 Family vacations can make for memorable experiences—but when you're trying to travel with toddlers, things can get cranky in a hurry. Here are some tips for taming those travel woes and making sure everyone can enjoy a relaxing trip.
Cushion your itinerary
Consider how long your total trip will take, including travel time and the time spent at various activities, and make it longer. Toddlers can't keep up with the same pace as adults and older kids, so set a schedule that works for your youngest child. Build in enough time for snack stops, bathroom breaks, and nap times to keep little ones from getting strained and over-tired.
Try for night travel
If you're heading a long distance, see if you can do most of your traveling at night—whether you're flying or road-tripping. The more time your toddler can spend sleeping while you're on the move, the easier it will be to avoid meltdowns.
Load up on snacks and drinks
Don't assume that you'll be able to stop on the way and buy healthy snacks. Airports, bus stations, and rest areas for drivers typically charge high prices and are limited in healthy selections. Have your own stash to keep your toddler's tummy happy—and yourself energized enough to face the long trip.
Bring a few favorite things
Make sure your toddler has something familiar from home that's easy to carry along, such as a stuffed animal or a favorite toy or book. Vacations aren't the time to separate little ones from their "security items," whatever those may be. Having a favorite thing on hand helps to calm tantrums and combat homesickness.
Engage toddlers in memory-making
Letting your little one participate in the vacation, instead of simply bringing them along, is a good way to keep them active and happy. One great way to accomplish this is to give your toddler his or her own disposable camera or cheap digital camera, and let them record the trip from their own point of view.
You might end up with 20 pictures of a small thumb or extreme close-ups of the back of the driver's seat, but your toddler will enjoy the role of photographer—and you might get a few priceless photos to add to your family collection.