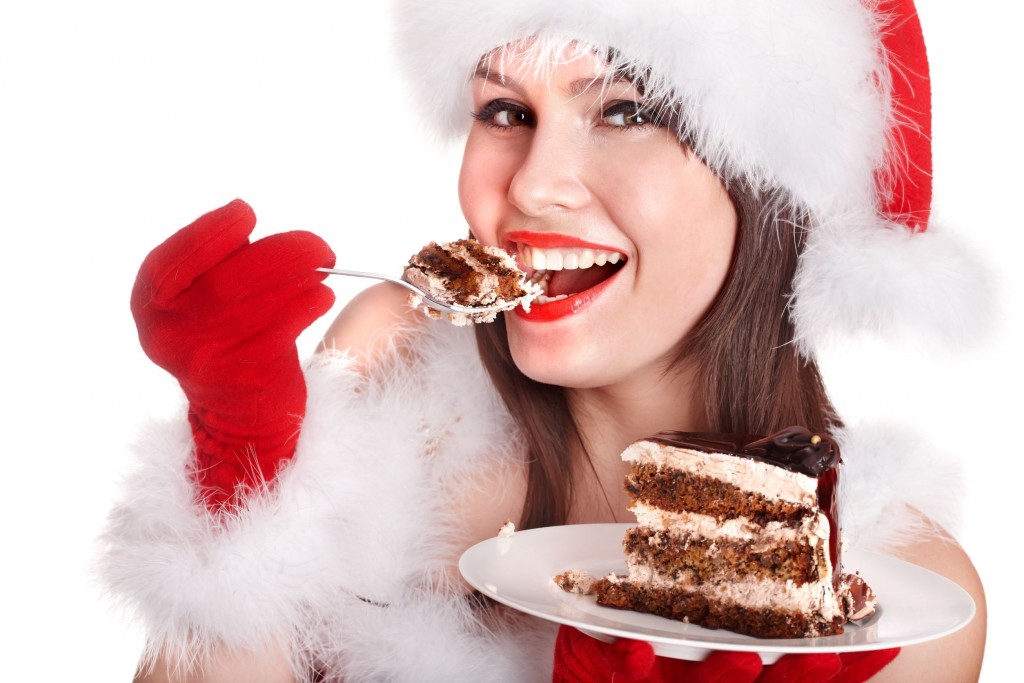 Here we are, officially in the middle of the holiday season and you're noticing your jeans getting a little more snug than you'd prefer. Dinners and office parties are coming up within the next week or two — not to mention all the goodies at the mall as you're hitting the sales post-Christmas and New Year's Day. You may not be on a diet necessarily — but you definitely ought to be paying closer attention to what you're putting in your mouth over the next few days. You'd hate to know that those candied yams and copious glasses of shiraz are the culprits of weight gain after the holiday lights come down. Luckily for you, we here at Weekly Sauce have done all the work for you and have researched some of the best tips for holiday eating and keeping your waistline in check. Here's a quick sidebar though — the holidays are about enjoying family and friends and indulging in that time together. Take a look at our tips below and be mindful about what you're eating but try not to ruin the mood of the festivities by agonizing about calories.
Try and stay away from the extras.
Especially if they're cream-based — so say 'no' to the chowder and egg nog. Definitely take it easy with the butter, whipped cream, cheese, and gravy. If you absolutely have to have any of these, go with a third of what you'd typically add to your plate.
Stay fresh.
When you're tempted to eat before the entire meal has been set on the table, pop a sugar-free stick of gum or a mint in your mouth. It cleans the palate and holds hunger off, giving you some extra time  deters you from snacking — particularly if you're the one cooking.
Watch those portions.
Portion size is your go-to strategy during the holidays. Try serving yourself with a teaspoon so you can try a little of everything or using smaller plates so you're not hitting the dinner table as often. Also, avoid eating what you don't love, just because it's there. Another good idea is to limit the variety on each visit to the table — try to stick to two items per plate. As far as drinks, go light on the alcohol, since everyone knows that there are a bunch of hidden calories in adult beverages. If you'd like a cocktail, take it in a tall skinny glass to cut back on the ounces per serving.
Don't skip meals.
Skipping meals on the day of a holiday feast is like setting yourself up. Don't do this. Be sure to eat your breakfast and lunch the same as any other day — just smaller portions. Maybe oatmeal and fruit, a light lunch, and then a small plate like a salad before dinner,  If you don't, you run the risk of heading to dinner, ravenous, then eating everything in sight upon arrival — from the cookies, candies, and nuts to the pot roast, mashed potatoes, and gravy.
Do skip pre-dinner treats.
Wrap them in a napkin if you have to, for later at home, but try not to nosh on the treats that are out on the table before the main course. If you really need to have a bite, reach for some fruit or a small plate of veggies. If there are unsalted nuts, try a small handful of these too, maybe just enough to fit the middle of your palm. Remind yourself that dinner is coming so when the time is right, grab something that's good for you to start with, like a bowl of broth-based soup — definitely don't fill up on snacks, though.
Seat yourself wisely.
If there's someone else that is paying attention to their food intake, sit with them for the night. It sounds silly, but it helps to hang around someone you can stick to the plan with. Or if you see a relative that you need to do some catching up with, plop down next to them for dinner. With all of your talking and trading stories, you may find yourself eating less than you figured you would be.
Stick to the plan while shopping, too.
Don't forget about that week between Christmas and New Year's Day! Almost everyone is out and about — returning and exchanging gifts or taking advantage of sales in those days following your holiday feast. Don't you dare stop in the food court. If you go to a restaurant, bypass the ones that have a ton of red in their decor or design — this seems crazy but according to RealSimple.com, the color red is responsible for stimulating one's appetite. Either bring a baggie of raw veggies with you or if you have the time, head to a quiet sit-down restaurant for a "real" meal. Indulge in it slowly and take your time away from the crowds — this helps you concentrate on how much you're actually eating.