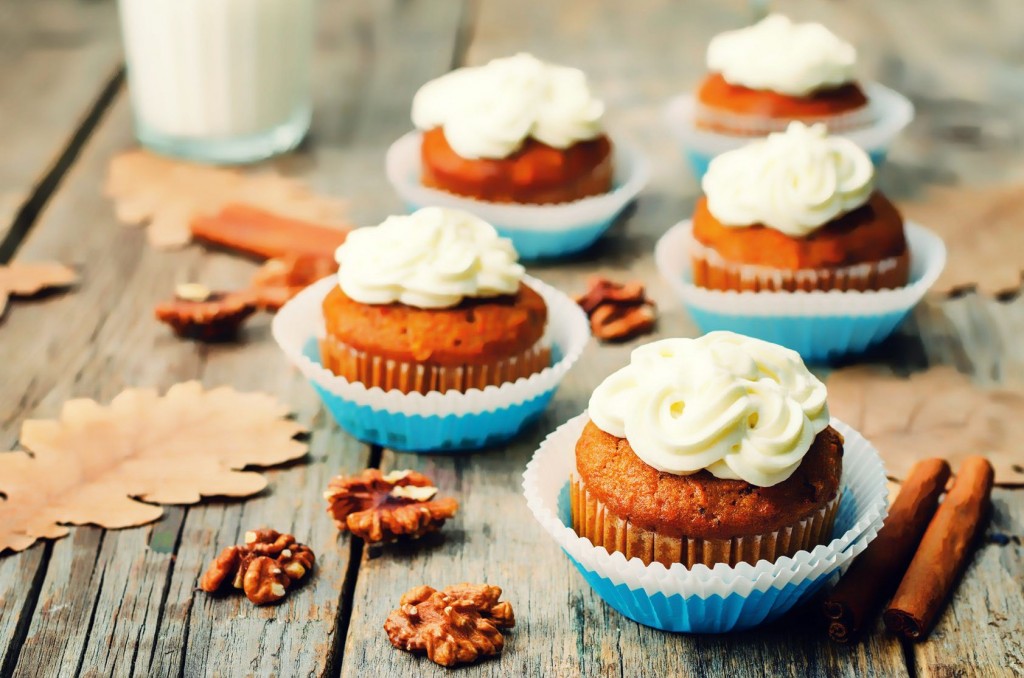 Fall is officially here, which means more than just a shift in weather: grocery selections and menu choices change, too. If you're preparing an autumn meal, you absolutely need to include these tasty seasonal must-haves.
Appetizers & Desserts
Butternut Squash
In abundance during the fall and winter months, this oblong vegetable is more versatile than it looks. With a texture perfect for a light soup, sweet dessert, or side-dish casserole, butternut squash should be on your grocery list this season. You can bake it, roast it, boil it, or microwave it.
As an appetizer, mix pureed butternut squash with onion, garlic, olive oil, sour cream, and spices to create a dip that's perfect with pita chips. (Click here for the roasted butternut squash dip recipe, courtesy of My Recipes.)
For dessert, make a butternut squash pudding with egg yolks, brown sugar, vanilla, half-and-half and your squash puree.
Pumpkin
Pumpkin is an obvious fall food, and you'll find the flavoring everywhere – from your coffee cup to your dessert plate. As a vegetable, though, it can actually be quite a healthy recipe ingredient (assuming you don't smother it in whipped cream).
As an appetizer, mix a can of (or freshly-made!) pumpkin puree with garbanzo beans, tahini, olive oil, and spices to create pumpkin hummus. Cayenne pepper gives it a kick that will surprise your guests! (Get the full recipe for pumpkin hummus here, courtesy of All Recipes.)
For dessert, mix up your traditional pumpkin pie and make a pumpkin cake! Add evaporated milk, sugar, boxed cake mix, and a few other ingredients to make this praline pumpkin dessert.
Pear
These crisp fruits are perfect as a sweet addition to a pre-meal salad, and the dessert options are endless. Whatever variety you pick up — Anjou, Bartlett, Bosc, or Concorde — you've got options.
As an appetizer, mix up your boring spinach salad by adding Bosc pear, red onion, honey, dijon, and a divine vinaigrette (see the salad recipe here, courtesy of Chowhound). It's such a winning flavor combination that you can consider adding grilled chicken or other meat to make this dish a main course.
Any dessert that ends in à la mode is an easy sell. Use Bartlett pears, cinnamon, and brown sugar for this simple fruity dessert that will not disappoint.
Main Course
Brisket
Yes, it takes a long time to properly cook a brisket, but it's worth it in the end. A brisket is savory, flavorful, and pairs nicely with roasted root vegetables. Be sure to save leftovers (if you have any) for a stew later in the week. Try this slow cooker brisket recipe, courtesy of Paleo Leap , which (BONUS!) is Paleo!
Macaroni and Cheese
Macaroni and cheese as a main course? If you make it hearty enough, this warming dish can do the trick. Ditch the boxed macaroni and try a recipe like this one, also from Paleo Leap, that starts with a roux, mixes in different cheeses, and ends with a crunchy breadcrumb topping. To kick it up a notch, add diced ham and steamed broccoli for a one-pan meal.
Soup
A soup can make an easy and filling fall main course. Simple to pair with crunchy bread or some homemade croutons, stews and vegetable soups can simmer in the crock-pot for hours until the flavors marry. This beef stew recipe brought to us by The Food Network includes Worcestershire sauce, onion, sugar, carrots, garlic, spices, and stew beef.
If red meat isn't your thing, try making chowder like this one, from the chefs over at Taste of Home. Full of comfort foods including potato, bacon, and cheese, it's another great fall soup choice.
Beverages
Hard Apple Cider
Did you know you can make your own hard cider using yeast to ferment sweet apple cider from an apple press? As long as you're not selling your concoction, making the homemade version is completely legal. Served warm or chilled, hard apple cider just tastes like fall. If you don't want to make your own, the apple-flavored brews at your local liquor store are in bounty this time of year (Woodchuck and Angry Orchard are solid choices.)
Hot Toddy
This mixture of honey, bourbon, lemon, and cinnamon will leave you feeling all warm and fuzzy for fall. Enough said.
Let us know what dishes or drinks make it into your fall menu line-up! Mangia!